Lee Davy brings us up to speed with all the exits and excitement of Day 2 of the $1m buy-in Big One for One Drop as we reach the final six players with $10m up for grabs.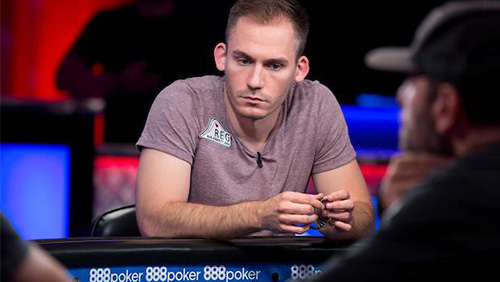 The Little One for One Drop raised over half a million dollars for the One Drop Foundation.
The Big One for One Drop has raised $2.1m.
So why does it feel like a failure?
Is my bombed out 43-year-old mind cased in cynicism?
It seems an age ago that I complained bitterly about the public relationship between the World Series of Poker (WSOP) and the King's Casino owner Leon Tsoukernik.
First Elton Tsang, then Matt Kirk.
We had a smoke and fire issue, and not only did the WSOP choose to ignore it, but they announced the Czech entrepreneur and businessman as the first player to officially reserve a position in the $1m buy-in event.
Much to my chagrin, it boded well for the future.
A 48-entrant cap.
An opportunity to erase the spectre of the 2016 mistake to ban professional poker players from competing, while at the same time allowing a man who has made millions playing poker to win it.
Back when Elton Tsang won €11,111,111, the event only pulled in 28 entrants. The pros weren't the only people suffering, so were the people whom the One Drop Foundation committed to saving.
So when the event returned to Las Vegas, and Tsoukernik pledged his allegiance to the One Drop flag, I had high hopes that the game would be the wealthiest poker tournament in history.
Instead, I have a feeling that we may never see this tournament again.
Only three players took the opportunity to register on Day 2.
Brian Rast.
Byron Kaverman.
Rainer Kempe.
Not a single amateur amongst them.
In fact, you were more likely to see chicken giblets served to Daniel Negreanu than an amateur who can't compete at the highest level taking part in this competition.
Five people will get paid.
Here are the prizes. 
The Prizes
1. $10,000,000
2. $6,000,000
3. $4,000,000
4. $2,800,000
5. $2,000,000
In 2014, Martin Jacobson won $10m when he took down the $10,000 Main Event.
It's not supposed to be like this.
Enough of my whining, let me take you to the action: 
Level 11: 50,000/100,000/100,000
Adrian Mateos was the first person to bust on Day 2. The Winamax Pro tangled with Fedor Holz on the turn in an unraised pre-flop pot. Mateos moved all-in on fourth-street. The board looked like this – ThTs7d3h; Holz called. It was a cooler. Mateos held KT for trips. Holz held pocket sevens for the boat. It was one of those boats with room for one. Mateos ended up in the great blue yonder, and we never saw him again.
I don't know about you, but I would want to have my money's worth if I had invested $1m in a poker tournament. Rainer Kempe didn't get his. The German star, who registered late, left in the first level, after running QQ into David Einhorn's AA. I don't care how good you are; the deck can be the perfect leveller.
After a Hedge Fund manager eliminated a superstar from Germany, a superstar from Germany eliminated a Hedge Fund manager. Talal Shakerchi went for it with pocket nines. Holz joined him with AK, and an ace on the turn sent the philanthropist packing.
Then we lost the best live tournament poker player in the world. First Jason Koon took a bite out of Stephen Chidwick KK>JJ on a Td4c3d flop. Before the Global Poker Index (GPI) #1 put the last of his chips in the middle holding pocket sixes, and Matthew Siegal called, and won, with pocket aces.
Level 12: 60,000/120,000/120,000 
Not much to write home about. 
Level 13: 80,000/160,000/160,000 
Mikita Badziakouski came into this one in fine fettle after winning the Triton Poker Series Main Event in Montenegro, but he was the first player to hit the rail once Level 13 emerged from its eggshell. Rick Salomon ate his chips KK>AJs.
Then we lost Brian Rast.
The first person to win the Super High Roller Bowl (SHRB), lost a coin flip against the in-form Nick Petrangelo AK<QQ, helped by the beautiful looking Q77 flop.
Then we lost the 2014 runner-up.
Daniel Negreanu was seething after missing the first hand after the break due to a comms balls up, and he would need all of his zen, chill, meditative energy to calm down after Steffen Sontheimer sent him packing A6o>T7s.
Negreanu's departure condensed the field to the final two tables, and Fedor Holz was the man in charge.
On recent form, Jason Koon was another favourite to win this thing, but he lost his footing towards the end of the level. First, the partypoker ambassador doubled through David Einhorn JJ>AK, but then ran TT into Bonomo's QQ, and just like that the dream died.
The last elimination of the level was Sontheimer.
The man who sent Negreanu home to record his final WSOP VLOG of the summer lost a flip with AQ against the pocket sevens of Dan Smith.
Level 14: 100,000/200,000/200,000 
Matthew Siegal was the first player to leave proceedings in Level 14. Seigal was the pre-flop bully in a hand against Bonomo. The pair were soon staring at the QdTh3h when Siegal moved all-in, and Bonomo made the call. Neither player had connected with the first three cards, and Siegal's AKo was ahead of Bonomo's KJs. However, Bonomo is running well and playing brilliantly, and the ace arrived on the turn to fill him up and send Siegal home.
Bonomo hadn't finished.
Dominik Nitsche was the next player to heel to Bonomo when the pair got it in AQ v AK, and yes, you've guessed it, the American held the dominating hand. Nitsche's first experience in the Big One ending well short of the money. Bonomo moved over the 30 million mark.
Level 15: 120,000/240,000/240,000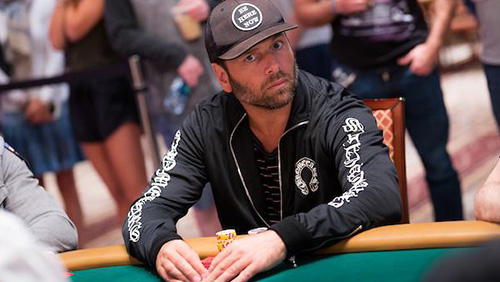 If you thought Mateos' cooler against Holz was a difficult one to take, then consider what happened to Christoph Vogelsang. The former SHRB Champion got it in with Erik Seidel on a flop of Js4d3c, with the German streaks ahead with J4, for two pairs, versus the pocket fives of Seidel. That was until the dealer handed the New York legend a runner-runner wheel combo to end Vogelsang's experience in the event.
Two tables became one when Dan Smith eliminated Cary Katz. The ARIA High Roller founder moved all-in holding A6o, Smith called in the big blind holding 87o and flopped a seven to neuter Katz.
The Unofficial Final Table
1. Justin Bonomo – 25,400,000
2. Nick Petrangelo – 18,880,000
3. Erik Seidel – 15,980,000
4. Fedor Holz – 15,455,000
5. Rick Salomon – 14,425,000
6. Dan Smith – 14,085,000
7. David Einhorn – 12,930,000
8. Byron Kaverman – 12,135,000
9. Phil Ivey – 5,710,000
Level 16: 150,000/300,000/300,000 
Byron Kaverman doubled through Seidel, AK>QQ. And then Seidel got a taste of his own 'cooler' medicine in a heart-racing hand against Einhorn.
The pair went for it on Td9h8d.
Seidel showed QJo for the nuts.
Einhorn showed Q9dd for the flush draw.
The turn changed nothing.
The 4d river card changed everything.
Seidel was out.
From one legend to another, and Phil Ivey exited in eighth place, after getting it in with AJ against the KK of Bonomo.
Level 17: 200,000/400,000/400,000 
Zippo.
Level 18: 250,000/500,000/500,000 
And then we had our final table.
Justin Bonomo extended his lead by eliminating the dangerous and in-form, Nick Petrangelo, 99>A8o.
Chips went into plastic bags.
Six players went home for a kip.
The lights went out.
Final Table
1. Justin Bonomo – 48,950,000
2. Fedor Holz – 22,125,000
3. Dan Smith – 21,450,000
4. Rick Salomon – 19,650,000
5. David Einhorn – 12,300,000
6. Byron Kaverman – 10,525,000