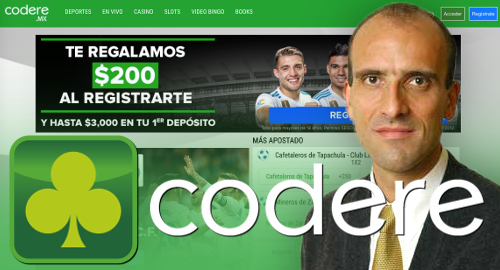 The new management team overseeing Spanish gaming operator Codere has poured cold water on a potential merger with local rival Cirsa in order to focus on boosting Codere's digital division.
In November, rumors swirled that Codere and Cirsa were mulling some kind of union. Both companies have a significant land-based and online presence in their home market and in many Latin American markets. At the time, the privately held Cirsa was also said to be mulling an initial public offering or the sale of a minority stake to parties unknown.
On Tuesday, Spanish media outlet El Economista reported that Codere's recently installed new senior management team had ruled out growing via mergers or acquisitions for at least "the next few years." Codere's new chairman Norman Sorensen and CEO Vicente di Loreto (pictured) are also reportedly "not interested in participating in Cirsa's open sale process."
However, Codere's new brain trust are interested in chipping away at Cirsa's market share, both at home and abroad, particularly in the digital sector. Codere reportedly plans to take the next two or three months to map out a new online-focused strategy, to which the company will devote 20-25% of gross profits.
Codere has targeted Mexico and Italy as areas where online growth is possible. Codere also launched its new Colombian-licensed gaming site in November and the company expects to be one of the first to launch when Brazil finally gets around to approving its long-awaited gambling expansion legislation. As its digital operations grow, the company expects bingo's importance to Codere's bottom line to decrease with time.
Codere plans to operate on a fairly lean basis for the next couple years in the hopes of chipping away at its long-term debt levels. As a result, the company plans to go at least one more year without offering dividends to shareholders.