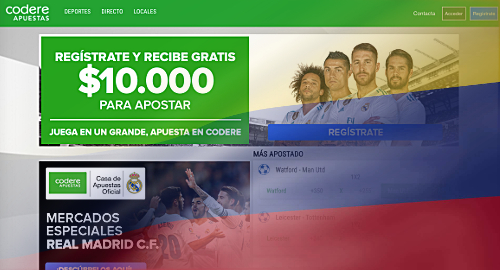 Colombia has officially welcomed Spanish gaming operator Codere as its newest online gambling licensee, while rumors swirl about Codere merging with Spanish rival Cirsa.
On Monday, Colombian gaming regulator Coljuegos officially announced that it had issued its fifth online gambling license to Codere, which is now taking sports wagers via the Codere.com.co domain.
Coljuegos noted that Codere has a long history in land-based operations in Colombia, with 33 years of experience running venues offering everything from electronic gaming machines, bingo and casino games.
Coljuegos says Codere Colombia SA paid just under US $7m for its five-year license, which is nearly twice the $3.7m paid by local operator Colbet, which received its Coljuegos approval in October.
Coljuegos has issued five online licenses since the country became the first South American jurisdiction to formally approve online gambling within its borders. Coljuegos president Juan B. Pérez Hidalgo said the regulator expects to issue at least a couple more licenses before the year is done.
Meanwhile, back in Codere's home territory, the company's shares got a boost after rumors swirled that the company was considering some kind of union with rival operator Cirsa, whose president has expressed interest in discussing potential tie-ups with other operators to complement vague plans to take the company public.
Cirsa, which analysts suggest has a value of €2b, has a significant presence in Spain and across Latin America, operating casinos, bingo and slots halls, as well as online gambling sites catering to Spanish, Mexican and Panamian customers.
Codere, Spain's only publicly traded gambling firm, has a similarly vast footprint, including 144 gaming halls, four racetracks, nearly 4k betting points of sale as well as online gaming operations, spread across Spain, Italy, Mexico, Argentina, Uruguay, Panama and Colombia.
In its Q3 2017 earnings report, Codere's revenue rose 2.8% year-on-year to €401m, while earnings fell 1.2% to €68.4m. Argentina, Codere's main market, reported revenue up 1% to €141.6m, while Mexican operations improved 5% to €86.6m and Panama slipped 7.5% to €23.3m.
Neither Cirsa nor Codere have so far issued any comment on the rumored tie-up, which would create one of the world's larger gambling firms and fit with the global trend toward consolidation in the gambling industry, particularly on the online front.