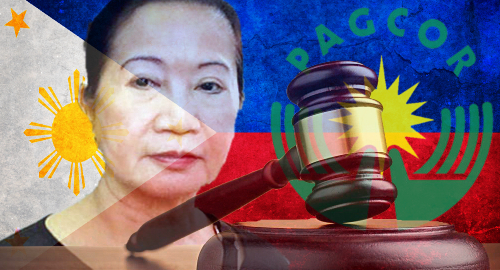 A Philippines-based anti-corruption watchdog has filed a graft complaint against the head of the local gaming regulator, accusing her of seeking to establish a monopoly over the country's online gambling market.
On Monday, Philippine media reported that the Anti-Trapo Movement (ATM), a local NGO, had filed a graft and breach of conduct complaint with the national Ombudsman regarding the Philippine Offshore Gambling Operator (POGO) program established by the Philippine Amusement and Gaming Corporation (PAGCOR).
PAGCOR launched its POGO program late last year in a bid to exert greater control over the online industry, which to that point had been overseen by the country's special economic zones, including the Cagayan Economic Zone Authority (CEZA) and the Aurora Pacific Economic Zone and Freeport Authority (APECO).
The ATM's complaint accuses PAGCOR CEO Andrea Domingo (pictured) of a "gross violation" of anti-graft laws, by so-called "forum shopping" for a government department that would find fault with the legality of the online operations in certain economic zones.
Philippine law requires government-controlled agencies such as PAGCOR to refer their legal questions to the Office of the Government Corporate Counsel (OGCC), but this body reportedly found no reason to question the legality of the APECO online gambling operations.
The ATM claims that instead of accepting this ruling, Domingo then referred the issue to the Office of the Solicitor General (OSG), who proved less accepting of the APECO operations. The ATM complaint says Domingo pitted these two government departments against each other, and posted the OSG opinion on PAGCOR's website "with clear malice."
ATM chairman Leon Estrella Peralta said there was no reason for APECO – also a government agency – to be shut out of the online gambling sector "unless there is something else to be gained from a monopoly of licensing." Peralta added that online gambling licenses could be a source of "undue wealth to its issuer."
This isn't the first time that ATM has found fault with the POGO program, having petitioned the country's Supreme Court this spring for an injunction to block PAGCOR from issuing any more POGO licenses. Unfazed, PAGCOR has continued to bestow the coveted POGO designation on new licensees.
PAGCOR CASINO PRIVATIZATION MOVES CLOSER
In related news, the government has drafted an executive order (EO) to help privatize the 46 gaming venues currently operated by PAGCOR. The EO is intended to accelerate the agency's transition away from its current role as regulator/operator to a purely regulatory function.
Finance Secretary Carlos Dominguez III told reporters that the EO had been submitted for President Rodrigo Duterte's signature. But the plan to privatize at least 17 of PAGCOR's 46 casino operations by next year was proving "a little more technical that what the PMO [Privatization and Management Office) can handle."
As a result, Dominguez said the cabinet would authorize a "special privatization team, separate from PMO" to handle the sale. Once Duterte puts his John Hancock on the EO, Dominguez suggested this new team could commence the sell-off within "60 to 90 days."
Comments