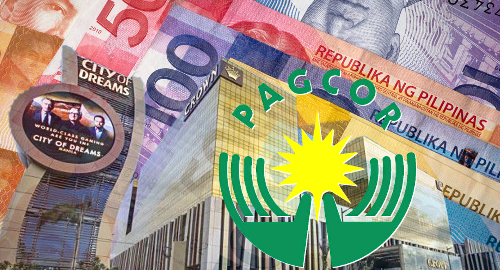 Philippine-licensed casino operators got big boosts from junket operators and slot machines in the first half of 2017.
This week, the state-owned Philippine Amusement and Gaming Corporation (PAGCOR) reported its official financial breakdown of the country's gaming industry for the second quarter of 2017. For whatever reason, it's the first such report that PAGCOR has released since reporting the Q3 2016 figures last November.
During that intermission, PAGCOR has continued to release its own revenue figures but the new data gives the first insights into the role that junket operators play at both PAGCOR's own Casino Filipino operations as well as PAGCOR-licensed privately-run casinos.
Junket-derived revenue at PAGCOR-operated casinos hit P1.91b (US $37.1m) in Q2, nearly one-third higher than in Q2 2016, although the sum was down from P2.16b in Q1 2017. In the first half of 2017, PAGCOR casinos' junket-derived revenue hit P4.07b, putting it on track to beat the P6.2b PAGCOR earned via this channel in all of 2016.
By comparison, PAGCOR casinos reported P5.94b in non-junket table revenue in H1, essentially flat year-on-year, while electronic gaming machine (EGM) revenue nudged up 2% to P7.3b.
As for PAGCOR-licensed private casino operators, they reported overall revenue of P58.6b in H1, nearly one-fifth higher than the same period last year. Of this sum, casinos in Manila's Entertainment City gaming zone earned P54.1b, one-third higher than H1 2016.
The private casinos' share of junket-derived revenue totaled P17.7b in H1, up nearly 13% year-on-year. Non-junket table revenue was up a similar margin to P23.1b, while EGM revenue spiked 31.7% to P17.8b.
Last year's crackdown on the local businesses of gaming operator Jack Lam was on full display in the H1 numbers, which showed gross gaming revenue in the Clark Freeport's special economic zone falling from P8.2b in H1 2016 to just P3.6b in the first half of 2017.
Similarly, last year's war on PhilWeb's eGames operations resulted in electronic games revenue falling nearly 35% to P1.85b in H1. eBingo revenue fared better, improving 2.5% to P9.86b while electronic gaming sites' sports betting revenue shot up nearly two-thirds to P387m.
PAGCOR's new Philippine Offshore Gaming Operator (POGO) licensees generated revenue of just under P1.1b ($21.7m) in H1, as previously reported in PAGCOR's own H1 earnings report. PAGCOR has stated that it eventually hopes to push its annual online revenue as high as $120m once the new licensing regime is fully mature.
Comments