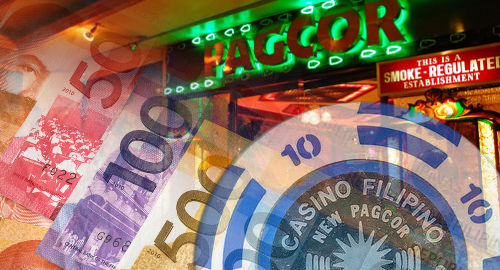 The Philippines' gaming regulator/casino operator reported a one-quarter rise in profits in the first half of 2017.
Figures released this week by the Philippine Amusement and Gaming Corporation (PAGCOR) show its revenue from gaming operations rising 8.4% year-on-year to P28.3b (US $558.6m) in the six months ending June 30, while profit jumped 24.9% to P3b ($60.2m). PAGCOR's mandatory contributions to the Philippine government treasury totaled P13.4b in H1, also up 8.4% year-on-year.
The year-on-year revenue rise was slower in Q2, rising 1.4% year-on-year to P14.2b, due in part to the temporary closure of gaming operations at the Resorts World Manila casino following the horrific attack by a lone gunman in June that resulted in the deaths of 37 individuals.
PAGCOR is in the process of transitioning to a purely regulatory role, but in the meantime, its casino operations reported table game revenue of P5.2b, slots winnings of P6.1b, while electronic bingo added P4.4b. Income from PAGCOR-licensed private casinos was just under P9.5b.
The new Philippine Offshore Gaming Operators (POGO) category reported revenue of just under P1.1b ($21.7m) in H1. PAGCOR has expressed hope that the POGO program will eventually generate annual income of up to $120m once the online licensing regime is fully up to speed.
PAGCOR recently informed POGO online casino licensees that the tax on RNG games revenue would remain at 2% but that operators would be required to remit a Monthly Minimum Guaranteed Fee (MGF) of $150k. The first required monthly RNG 'declaration forms' were due on July 3.
DOJ SAYS PAGCOR HAS OVERSIGHT OF BATAAN BPO
In related news, Monday saw the Manila Times report that the Philippine Department of Justice had advised the Authority of the Freeport of Bataan (AFAB) that any online gaming-affiliated operations based within the special economic zone are subject to PAGCOR's oversight.
In a letter dated June 6, DOJ Secretary Vitaliano Aguirre informed AFAB chairman Emmanuel Pineda that the business process outsourcing (BPO) operations of the AFAB's master licensor Grand Innovasia Concept Corporation (GICC) "should be subject to the regulatory authority" of PAGCOR.
Pineda had sought the DOJ's opinion based on his belief that GICC's handling of BPO operations for international gambling sites meant no actual gaming operations were taking place within the AFAB. But Aguirre insisted that "despite being limited only to foreign markets," GICC's operations remained under PAGCOR's authority "unless there is a clear grant upon an ecozone such as AFAB to regulate games of chance."
PAGCOR"s POGO program was part of the Philippine government's efforts to impose tighter oversight of the country's online gambling operations, which previously were overseen by authorities in the country's special economic zones. This month, PAGCOR further tightened the screws by announcing that it would dispatch monitoring teams to its POGO licensees to ensure compliance with regulatory requirements.
Comments