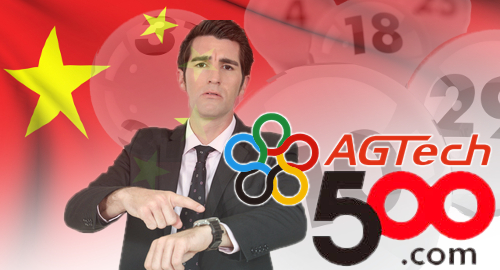 Online sports lottery technology provider 500.com has lost its chairman nearly three years after China suspended online lottery sales.
On Tuesday, the Nasdaq-listed 500.com published its Q3 earnings report, which showed revenue of RMB 43.2m (US $6.5m) in the three months ending September 30, a significant improvement on the nil revenue that the company generated in the same period last year.
Until March 2015, 500.com was one of only two companies that China's Ministry of Finance had officially approved to participate in a 'pilot program' of online lottery sales. But a crackdown on corruption at provincial lottery administration centers led Beijing to impose a 'temporary' suspension of online lottery sales that shows no sign of being lifted anytime soon.
As a result, 500.com's new revenue came courtesy of three recent acquisitions, including a majority stake in The Multi Group Ltd, the Maltese parent company of Nordic market focused online gambling site Multilotto.com; a roughly 40% stake in Chinese retail lottery operator Loto Interactive Ltd (formerly known as Melcolot); and an online social poker business.
The Nordic online operations accounted for 52% of the Q3 revenue total, and 500.com CEO Zhengming Pan expressed confidence that the company's new businesses "will create strong synergies with our existing operation platform."
Despite the revenue gains, 500.com booked an operating loss of RMB 74.4m and a net loss of RMB 72.2m ($10.9m), as expenses soared due to the integration of these new business divisions. Fortunately, 500.com is sitting on a cash pile of roughly $91.5m that should see it through until its growing pains abate.
Sadly, the long uncertainty surrounding 500.com's future appears to have taken its toll on chairman Lian Qi, who announced earlier this month that he was stepping down. Qi, the co-president of Tsinghua Unigroup Co Ltd, which provided a serious cash infusion shortly after 500.com's online lottery sales were suspended, is being replaced as chairman by Tsinghua vice-president Yonghong Zhang.
DIVERSIFICATION PAYING OFF FOR AGTECH
In other Chinese lottery news, Hong Kong-based lottery technology supplier AGTech Holdings reported its Q3 revenue rising nearly 61% to HKD 120.1m ($15.4m), with nearly all of the gains coming via its new 'games and entertainment' segment, which contributed HKD 42.8m to the Q3 results.
AGTech inked a deal earlier this year with the mobile Taobao channel of Chinese tech giant Alibaba Group to launch a games and entertainment platform that allows merchants to promote themselves and their products to consumers. AGTech says this new operation has been "well received by the market" and the company is encouraged by its initial success.
AGTech has also been using the mobile Alipay channel to distribute its casual and competition poker platform, which came about via a five-year deal inked this January with the China Competition Two-on-One Poker Championship.
AGTech provided an update of sorts on its plans to enter India's mobile games market via its joint venture with the Paytm mobile payment platform. AGTech is still working on tailoring a product for the Indian market but believes it's "laying the foundation for further international expansion in the future."
While AGTech's Chinese lottery operations are terrestrial, the company's growing relationship with Alibaba means that it, like 500.com, is also eagerly awaiting Beijing lifting the online sales suspension. While revenues were up significantly, the cost of branching out into new business areas meant the company's net loss for the quarter nearly doubled year-on-year to HKD 35.2m.