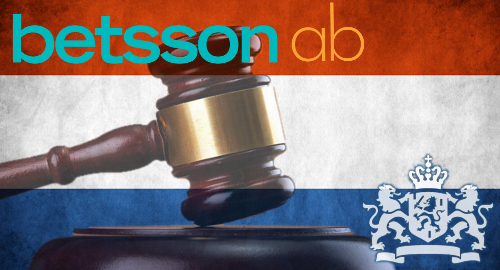 Online gambling operator Betsson AB has lost its bid to challenge the Netherlands' gaming regulator's right to take enforcement action against online gambling sites it doesn't like.
A couple months back, the Kansspelautoriteit (KSA) regulatory body announced that it was taking "a new step in combating remote gambling," which the KSA insists remains 100% illegal in the Netherlands until Dutch legislators get their act together and approve their long-overdue Remote Gaming Bill.
The KSA is already one of Europe's more aggressive regulators in terms of taking enforcement action against internationally licensed online gambling sites targeting Dutch punters. But the new rules dramatically broadened the scope of what qualifies as punishable behavior, and some operators felt the KSA was getting too big for its britches.
Betsson, which operates the Dutch-facing Kroon Casino and Oranje Casino online gambling brands, filed a legal challenge in The Hague based on its belief that its Dutch-facing brands had complied with the KSA's previous policies, as well as the fact that the KSA's failure to launch enforcement action against these brands amounted to a de facto toleration of the sites' activity.
Betsson also argued that current Dutch law is incompatible with European Union edicts on free trade among member states. In July, Betsson filed a complaint with the European Commission, requesting that it take action to rein in the KSA's excesses.
In a court hearing in The Hague in late August, the KSA argued that it had "never tolerated" any online gambling site serving the Dutch market. The KSA also claimed that its recent update to its enforcement policy was more of a "clarification" than a revision.
On Thursday, the KSA proudly announced that the court had rejected Betsson's demand for an injunction against the regulator, based on the court's view that the KSA's policies were in line with existing Dutch law. Betsson is reportedly undecided on whether it will appeal the ruling, but insists that it's business as usual for its Dutch-facing brands.
Comments