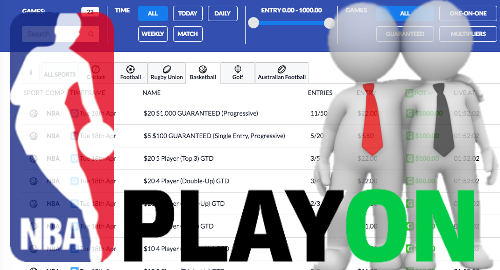 The National Basketball Association (NBA) has inked an international daily fantasy sports deal with DFS operator PlayON.
On Monday, the NBA and PlayON announced a multi-year partnership in which PlayON will serve as the Official Daily Fantasy Partner of the league, offering Official Daily Fantasy NBA Games in major markets across Europe, Asia and Latin America. The deal took effect with the start of the 2017 NBA Playoffs.
The Dublin- and London-based PlayON, which is authorized to offer paid-entry DFS contests by the UK Gambling Commission, Ireland's Office of Revenue Commissioners and Australia's Northern Territory Racing Commission, already holds official fantasy partnerships with cricket's Caribbean Premier League and golf's European Tour.
The NBA deal will give PlayON official partnership status in European markets including the UK, France, Germany, Italy and Spain, along with Australia, Japan and the Philippines in the Asia-Pacific region, plus Argentina, Brazil and Mexico in Latin America.
PlayOn has been operating since 2012 and currently boasts customers in over 100 countries, although it only offers paid DFS contests in markets where such activity is permitted. In addition, to football, basketball and golf, PlayON's list of sports includes cricket, rugby union, rugby league and Aussie rules football, with more sports expected to be added in the near future.
Salvatore LaRocca, the NBA's President of Global Partnerships, called the PlayON deal another way to "deepen our engagement with our international audience, and bring these fans closer to the game."
PlayON founder and CEO Killian Jones logrolled back, saying the NBA's "global reach and daily fixture schedule make it an ideal fit for daily fantasy."
The NBA's selection of PlayON as its international partner might seem odd on the surface, given that the NBA struck a partnership with DFS giant FanDuel back in 2014 that included the league taking an undisclosed ownership stake in the company.
But both FanDuel and its prospective merger partner DraftKings have only recently begun expanding their horizons beyond their core US market, making an established international player like PlayON a safer choice.
Comments