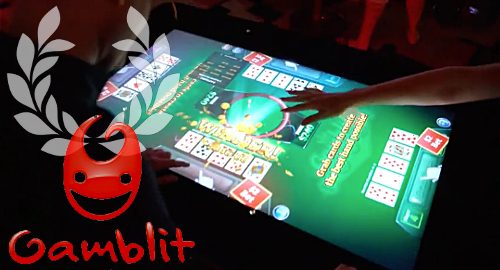 Skill-based casino games are making further inroads at US casinos through the launch of new Gamblit Gaming products at Caesars Entertainment's Planet Hollywood property in Las Vegas.
On Thursday, Caesars and Gamblit announced the initial field trial phase of what they're calling "the first skill-based gaming experience in the Las Vegas market." The trial involves three ModelG machines offering two games – Gamblit Poker and Cannonbeard's Treasure – with other games expected to be added in the near future. (See promo video at bottom of the page.)
Caesars and Gamblit inked a skill games deal last September to capitalize on Nevada legislators' approval of arcade-style slot machines in May 2015. The new technology is subject to a minimum 30-day field trial before final regulatory approval is granted.
Assuming the trial goes according to plan, Caesars plans to install additional Gamblit games at its other Nevada properties, as well as at its Harrah's Resort Southern California. Caesars hopes to have 200 skill-based machines scattered across its US properties in the near future and CEO Mark Frissora called the Planet Hollywood trial "an important step toward modernizing our customers gaming experience."
Further to that end, Caesars announced this week that it had appointed longtime employee Christian Stuart to the newly created position of VP of Gaming and Interactive Entertainment. In addition to overseeing gaming activity at Caesars' 47 casinos around the world, Stuart is also responsible for "the development of innovative and exciting offerings for the future of gaming."
Caesars launched skill-based games at its Atlantic City casinos last November via its deal with developer GameCo, whose CEO Blaine Graboyes, recently told the Las Vegas Review-Journal that over 60% of those playing the company's video game gambling machines (VGM) in AC are under 40 years old, offering casinos the opportunity to lure slots-phobic millennials onto the gaming floor.
GameCo recently announced a third round of funding that it hopes will raise $30m to fuel the company's international expansion plans. Graboyes has stated he hopes the company will launch its VGMs in Nevada this summer but he's also eyeing the Macau market, and planned to meet with Macau casino operators and regulators this week.
Comments