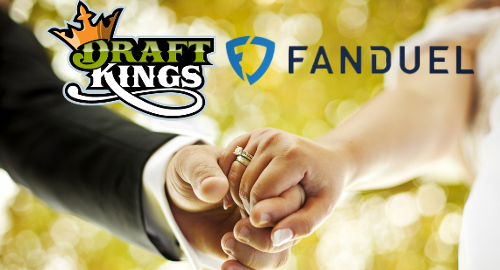 Daily fantasy sports operators DraftKings and FanDuel have finally confirmed plans to merge their businesses, although details on how this "strategic marriage of equals" will play out remain thin.
On Friday, the two DFS sites confirmed they would join forces sometime in the latter half of 2017. Financial details weren't disclosed, but the companies expect to realize "operational efficiencies and cost savings" that will "help the combined company accelerate its path to profitability."
These 'efficiencies' will include a likely significant cull of both companies' payrolls. The companies will also be able to combine their marketing spending as well as their lobbying activities targeting DFS-phobic states. (DraftKings currently doesn't serve 10 US states, while FanDuel is absent from those same states as well as Texas.)
Confirming rumors that circulated last month, DraftKings CEO Jason Robins will act as CEO of the merged company, while FanDuel CEO Nigel Eccles will serve as chairman. Each company will contribute three board directors to sit alongside one unidentified independent director.
The enlarged company plans to be "co-headquartered" in their respective home bases of Boston and New York, and the two sites will continue to operate under their existing brands "for the foreseeable future." Both platforms plan to remain "separate and operational" through the 2017 NFL season.
An FAQ on the DraftKings site promises that both companies "intend to keep our commission fees and structure competitive" with second-tier DFS operators. Whether that will be enough to assuage the concerns of federal anti-trust regulators remains to be seen, as the enlarged entity will command an estimated 96% of the US DFS market. And it will be interesting to see how long that 'intent' to maintain fee parity will hold sway as impatient investors clamor for a speedier path to profits.
Also unanswered is just how successful this merger will be in terms of the path to profitability. The payroll bloodletting and other cost-cutting moves will improve margins, but given the customer overlap between the two companies, the idea that the combined DFS behemoth will be greater than the sum of its parts is far from a given.
For one thing, it's not clear that the merged entity will be able to significantly expand the DFS player base. After all, while the number of DFS players continues to be a fraction of the broader fantasy sports market, who among this latter category isn't already painfully aware of DFS following last year's marketing overkill?