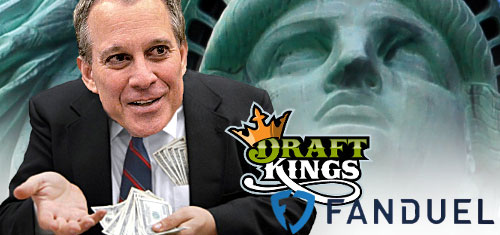 Daily fantasy sports operators DraftKings and FanDuel have reached a settlement with New York state's attorney general over misleading advertising claims.
On Tuesday, New York AG Eric Schneiderman (pictured) announced that the two DFS operators had agreed to pay $6m apiece in penalties and costs to resolve an investigation into advertising claims the AG's office believed were "false and deceptive."
The DFS operators have also agreed to enact "sweeping reforms" in their marketing, including "clear disclosure" of marketing promotions' terms and conditions, expected winnings and expected performance in online contests. The sites will also have to post information regarding the share of winnings generated by the sites' top 1%, 5% and 10% of players.
Schneiderman's office called the settlements "the highest New York penalty awards for deceptive advertising in recent memory." Schneiderman added that the sites were now required to "permanently end the misrepresentations they made to millions of consumers."
New York Gov. Andrew Cuomo formally approved DFS in his state in August but Schneiderman had previously warned that the imminent law change didn't mean the end of the consumer fraud lawsuits his office had launched in late 2015.
Schneiderman's office accused DraftKings and FanDuel's marketing pitches of (a) misleading customers into thinking they had a decent shot at claiming a cash prize, (b) failing to disclose the significant advantages held by DFS sharps wielding automated scripting tools, (c) misrepresenting the benefits of deposit bonuses and (d) failing to warn customers as to the risks of overindulging in DFS activity.
In March, the two DFS operators struck a deal with Schneiderman's office under which they agreed to exit the New York market until state politicians approved the necessary legislation. In return, Schneiderman agreed to pause his illegal gambling charges against the operators but he reserved the right to pursue the fraud charges regardless of any legislative changes.
The settlements accuse each operator of identifying and targeting users "with a propensity for gambling and addiction" while failing to disclose the risks of entering DFS contests or provide adequate safeguards for vulnerable consumers. Neither company's settlement required them to admit the AG's claims.
While the settlements remove a legal uncertainty that has been hanging over the two operators' heads for a year now, the financial penalties will make it even harder for the already cash-poor DraftKings and FanDuel to show investors a path to profitability, at least in the short term.