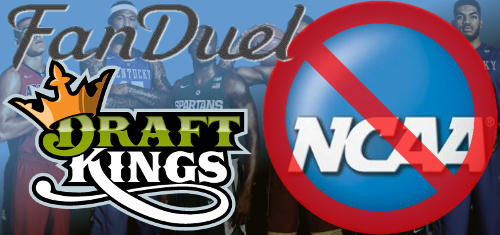 Daily fantasy sports operators DraftKings and FanDuel have continued their newfound bid for respectability by agreeing to "voluntarily and indefinitely" stop offering fantasy contests on college sports events.
The news, initially reported by ESPN's David Purdum, comes after months of negotiations between the DFS operators and the NCAA, the group currently earning mad TV cash thanks to US sports bettors' interest in the annual March Madness basketball tourney.
The NCAA has long expressed dismay about DFS operators – anyone besides the NCAA, actually – exploiting college athletes by making money off NCAA events. Accordingly, NCAA president Mark Emmert issued a statement saying his group would continue to work with state governments to ensure that any pro-DFS legislation under consideration carried similar college carveouts.
Cynics will note that the new college prohibition doesn't take effect until after Monday's March Madness final, thus allowing the DFS operators one last chance to store some fat until the next NFL season kicks off in the fall.
FanDuel reportedly derives just 3% of its overall revenue from college sports, but both FanDuel and DraftKings have been undergoing a fiscal death by a thousand cuts over the past six months, having withdrawn from multiple markets – including, most recently, New York – as state regulators and attorneys general express doubt over the legality of DFS.
On the plus side, the absence of NCAA events on DFS websites will remove one potential avenue of attack for any federal prosecutors who might still be considering whether DFS violates the 1992 federal PASPA sports betting prohibition. The NCAA has been among the loudest voices accusing DFS of being a sports betting wolf in sheep's clothing.
PASPA, which prohibits states from 'authorizing' sports betting of any form, loomed large in the DFS consumer protections proposed by Massachusetts AG Maura Healey, who explicitly made college events off limits for DFS operators while insisting that her proposals didn't authorize "a wager, bet or gambling activity that is prohibited by law."
Comments