Lee Davy catches up with Xuan Liu to find out what it means to be drafted into the Global Poker League by the Montreal Nationals, the difference between love and hate, and much more.
It's been a busy few weeks for Xuan Liu. Drafted by the Global Poker League (GPL) team Montreal Nationals by team manager Marc-Andre Ladouceur. She joined the Twitch revolution and signed up with the Global Poker Link staking marketplace. And she rolled out her half price policy for female poker players who want to hire her as a coach.
It was an exciting time to fire a dozen questions at her.
Blazing through @Chingster23's interview Q's before bed until I hit "What is love?", "Views on God?", and "Biggest failures?" Not tonight.

— Xuan Liu (@xxl23) 18 March 2016
OK, perhaps the timing wasn't spot on, but we got there in the end.
A week in the life of Xuan Liu?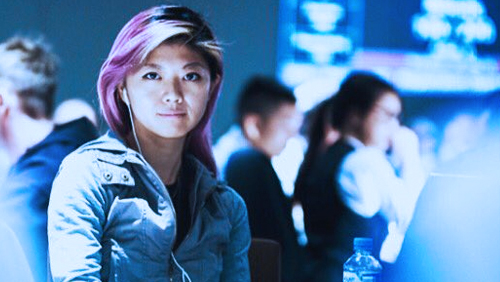 "I'm in Toronto now so when I'm here I have a rotating cycle of spending time with family and old friends. I had lunch with my grandma and cousin, celebrated a friend's birthday, spent a day with my dad and stepmom on one and my mom and stepdad on another, and played a few games of Heroes of the Storm online with my sister. In between I started Twitching, had an intense 5-hour coaching session with two local poker ladies, and played a small MTT schedule in three days. I went to the gym twice, meditated every day, ate a dozen eggs, and had one beer."
Was the GPL call up a surprise or did you get a few calls leading up to the Draft?
"Getting drafted to the Nationals was a surprise because I hadn't contacted or spoken to any of the team managers leading up the event. I was somewhat hopeful when I first tuned into the draft, but kind of lost faith after a few rounds and noticing all the great players left in the pool. I have a lot to offer as a well-rounded player, but I also knew that many opportunities in poker are political and generally go to people who want it the most. I only found out I got picked from the influx of texts received while I was in an intense LAN game with my sister! It was super humbling receiving accolades from people rooting for me, and I am immensely grateful for the opportunity."
How important was it for team managers to pick regional talent in your opinion?
"I think it was ultimately more important for the captains to weigh in on skill vs. team synergy vs. marketability rather than locale, but if a country had an elite player pool, it should definitely be a deciding factor. The four American teams kind of had it easy regarding being able to deviate more freely from geographical considerations."
Where do you foresee the GPL in the next five years?
"It would be a dream if the GPL could continue to evolve and legitimize poker steadily for the next five years. I'm an optimist and don't see why not. I think Twitch has allowed the game to reach new heights regarding keeping players interested in the game through two-way interaction and attracting interest from other gamers. Growth is possible as long as poker continues to be marketed as entertainment with more fan engagement and variations to both male and female audiences."
When weighing things up why did you sign the form and get involved when many others decided not to?
"I considered signing up a freeroll. There were very few details about the structure and format, but the conception sounded like a ton of fun, and many players I respected were already involved. I think the top players who decided not to opt-in were either too skeptical about such a large-scale project or felt like they had more to lose from being involved. I had some inhibitions about the contract terms, but after seeing some of Alex's responses on Twitter and comparing this contract to some others I've encountered throughout my career, I didn't feel it was a deal breaker."
Talk about your role with the Global Poker Link and your views on the staking marketplace.
"I've often sold tournament packages through crowdfunding, whether through 2+2 or friends, so the Global Poker Link had been on my radar for a long time. I decided to partner with the company after receiving positive feedback from friends who were already part of the GPL team, Rupert Elder, and Jeff Gross, and noticing the site had passed the test of time. This naturally led me to start streaming on Twitch, because a lot of buyers enjoy following the action from players they have pieces of. I think it's kind of cool how the site enables casual fans and investors to buy pieces as small as 0.5%. The streamers are putting themselves out there for scrutiny and potentially losing edges from giving opponents additional information, so you can't argue against inflated markups, which are almost always due to the auction process anyway."
What was your life like 10-years ago? What challenges were you facing?
"When I was 20 years old I was struggling to fit in at university. My classes were completely mundane, and even though I enjoyed reading most of the course literature I had no motivation for meeting deadlines. I was in a relationship I knew would never work, and I didn't want it to. I questioned everything and knew there was too much of myself and the world to be discovered."
5-years ago?
"Five years ago I had just started traveling for poker and was a doe-eyed amateur. I constantly had to metaphorically pinch myself to internalize what a sharp turn my life had taken. I met so many new people and rarely said no to doing anything exciting or outrageous. I was afraid to ask my million questions because I didn't want anyone to think I was dumb, and it seemed like almost everyone was winging it anyway."
What are your best habits?
"I always strive for self-improvement and see the best in everything. I have a terrible memory, so I forget the bad stuff."
What are your worse habits?
"I can be lazy and unfocused. I also used to allow myself to spiral into negative thought tangents and had to consciously prevent that from happening."
What are your views on philanthropy?
"Philanthropy is necessary. Efficiency and accountability in charity work are important, but doing something is almost always better than nothing. It's much easier for the unfortunate to climb out of hopelessness if they know people care about them."
What is God?
"God is in all of us. The fact that universe, life, pizza all exist is incredibly wondrous. There are literally miracles all around us at every moment. It can be difficult to wrap our minds around this, which unfortunately is why so many people leave the thinking part to someone else."
What is the best example you can think of regarding the way fate has affected your life?
"We all have the power to manipulate our own fate. I was born a girl in a society that did not value us as much as boys, and I was constantly reminded of this fact. Transitioning to life in Canada and experiencing my parent's divorce at the same time also set me up to be very independent and resilient. I'm exactly where I need to be, and take responsibility for the decisions I have made to get here, the good and the bad. I have been through a lot, but I also know I have been blessed in a lot of ways."
What is love?
"Everything good comes from a place of love. Our common notions of romantic love are such a small part of it."
What is hate?
"Fear of the unknown, a reaction to pain and insecurity."
What is the biggest failure in your life so far?
"Not treating money with respect. Growing up without much I always had weird feelings towards money and didn't handle it with much accountability. I have also historically been over-optimistic about my relationships and opportunities in poker, and things rarely turn out the way I anticipated."
What is the dumbest thing you do to make yourself look better, bigger and bolder?
"I think I tend to sway in the other direction to make myself look smaller and worse with my self-deprecating humor and Asian approach to modesty. In relationships, I have been known to act indifferently as a self-defense mechanism against getting hurt."
If I gave you 10,000 hours to work on anything what would you choose and why?
"I'd learn a language, either programming or comprehensive Mandarin Chinese. Coding will become as common as any verbal language in the future, and I'd love to be able to think in my native tongue again."