This is a guest contribution by Zach Kay, a poker writer at sportswriters.us/pokerwriter. If you would like to submit a contribution please contact Bill Beatty for submission details. Thank you.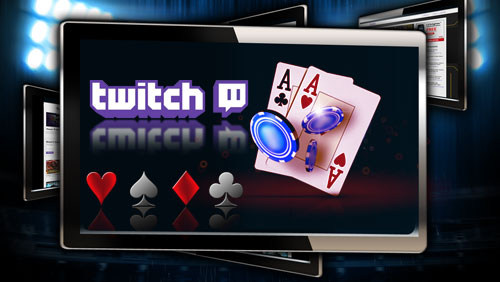 In 2015, the TV shows High Stakes Poker and Poker After Dark, which many poker enthusiasts once enjoyed, are no more than fond memories. Other than coverage of some well-known circuits such as the EPT and big live events like the WSOP Main Event, televised poker is not receiving the investment it once did. But investors do not simply stop investing. They just look for other opportunities. Perhaps a new emerging market on the world's largest streaming service is an attractive option?
Twitch.tv, a domain owned by Amazon, is a hosting and broadcasting company that allows users to both upload and stream content in real time. It boasts over 100 million users every month and was ranked 4th in peak internet traffic in the US for the week ending 3rd Feb. That ranking surpasses sites such as Tumblr, Valve, Hulu, and Facebook.
Twitch divides its content into "Channels", which subdivide into individual streams. At the time of writing, the Poker channel had 2,029 viewers with the top streamer contributing 1,321 viewers. By comparison the most popular channel League of Legends, had 204,558 viewers with the most popular streamer contributing 134,521 viewers. It is therefore fair to say that Poker is far from dominating the twitch community in the near future. However it does consistently place in the top 30 channels, which is impressive given the short time it has had to gain exposure since its addition to the site.
I believe Poker has the potential to become extremely popular on Twitch as it shares the same qualities as the most viewed channels. League of Legends, DOTA 2, Counter Strike, and Hearthstone. The common denominator in all of these games is competitive online strategy. While the idea of introducing the competitive e-gaming and poker markets has been suggested as a way of increasing player numbers before, it has proved challenging. While the core skills and interests overlap, traditional poker marketing has not been able to reach out to these gamers in an effective way.  With the Poker channel consistently holding a place on the front page of Twitch due to its top 30 ranking, it seems Twitch is the first medium to offer poker effective exposure to the gaming community. Clearly, I am not the only person who believes that Twitch holds potential. PokerStars themselves have begun streaming live footage from EPT events and several well-known professionals have joined the trend.
For Poker, as an industry to capitalise on the exposure it might gain via Twitch, content created by streamers will need to adapt. It will have to be exciting enough to hold the interest of new recreational players and evolve as these players learn the game. The majority of the current audience on the Twitch Poker channel are already poker players, by no means professionals, but they are for the most part familiar with the game before discovering Twitch. The streamers personality and willingness to interact with their followers, both while streaming and via social media, will also be key. A robotic pro explaining why "check call leading the turn in this spot from the small blind is best for your range here" is not something prospective and recreational players are going to be able to understand let alone relate to and enjoy.
This leads us to the impact a potential influx of new players could have and raises some difficult questions on the distribution of strategy. I am of course realistic. A second "Poker Boom" resulting from a massive migration of gamers to poker is extremely unlikely. However, I believe the potential gains from just a fraction of that market are significant enough to consider.  Any new players increase the liquidity of poker sites with new deposits. New players are also basically all losers when they start out which is great news for all the Regulars. The only negative from acquiring these new players would be: if a greater than average number of them turned into long-term winners over time. It is of course very difficult to estimate this. At first, it might seem like those interested in competitive gaming are likely to be great candidates for winning poker players but note that the vast majority of people watching the streams of pro gamers probably do play the games but are certainly not professional players. With this in mind, I think we would see a similar distribution as we have seen before between regular and recreational players. The other issue is that streamers distributing strategy via twitch will have a similar effect in making the games tougher as sites like CardRunners and DeucesCracked several years ago. Awareness among professionals has certainly grown in recent times with regards to making strategy available, and recently there has been a decline in willingness to do so. For many different reasons, there will always be some willing to share strategy advice and they are within their rights to do so regardless of the long-term effect on the game. Will it be these players discussing strategy who are the most watched by new and recreational players? This seems unlikely to me and so the risk seems worth the potential reward from my perspective.
With Twitch Poker still in its infancy, it is difficult to make accurate predictions about the direction it will take but needless to say I am excited by the prospect.