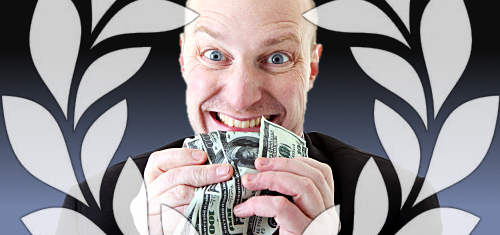 Casino operator Caesars Entertainment is charging hotel guests more for hotel services, regardless of whether or not guests actually use those services.
On Monday, Caesars announced that it was raising 'resort fees' – those extra charges the company tacks onto guests' bills for things that used to come free, like in-room Wi-Fi and local phone calls – from $29 to $32 (plus 12% tax) at five of its Las Vegas Strip properties: Caesars Palace, Nobu, the Cromwell, Paris and Planet Hollywood.
Caesars introduced the controversial fees in March 2013 and they immediately added between $10m and $15m to the company's quarterly revenue. As such, the justification behind boosting these fees appears obvious, although the company offered no explanation as to why the raised rates weren't being applied at all Caesars properties.
CAESARS GETS REFEREE, TEMPORARY REPRIEVE FROM CREDITOR LAWSUITS
In other Caesars news, the squabbling parties contesting the bankruptcy of Caesars main unit Caesars Entertainment Operating Co (CEOC) have finally got the mediator they were seeking. Retired US Judge Joseph Farnan has somehow been bribed into keeping sharp objects out of creditors' hands while Caesars continues to push its plan for CEOC's restructuring.
Meanwhile, Caesars caught a major break last Friday when US Bankruptcy Judge Benjamin Goldgar agreed to stay a junior creditor lawsuit filed in the state of New York. The suit accuses Caesars of stripping CEOC of its more profitable assets prior to its Chapter 11 filing in order to shield these assets from junior creditors. Caesars has warned that it will have to join CEOC in bankruptcy if the Manhattan court sides with the creditors (and the Manhattan judge appeared to be sympathetic to the creditors' cause).
Goldgar agreed to stay the New York suit until either May 9 or 60 days following the release of an independent examiner's report into the asset transfers. The report by former Watergate prosecutor Richard Davis is expected to be made public any day now, although word has already leaked that Davis found a 'degree of civil fraud' in Caesars' asset shifting and its reneging on billions in debt obligations.
Junior creditors have filed similar litigation in Delaware courts but Goldgar has postponed a hearing on staying that suit until May 4. Goldgar appears determined to offer Caesars the opportunity to find some acceptable compromise between CEOC's junior and senior creditors.
Under the restructuring Caesars has proposed, around $10b of CEOC's $18b debt would vanish, and since most of that disappearing debt is held by junior creditors, they've been understandably reluctant to give the plan their thumbs-up. But recent attempts by Caesars to sweeten the junior creditors' pot left senior creditors threatening to propose their own restructuring plan.
Bottom line: it's going to take a whole more than increased resort fees to find the money Caesars needs to achieve creditor contentment. Have they tried straight up robbing their guests? Just a thought.