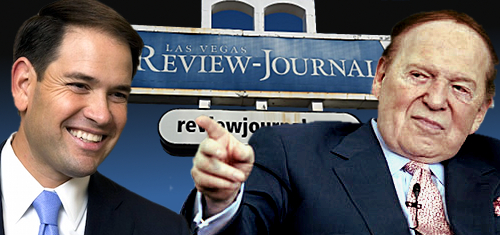 A newspaper owned by Las Vegas Sands chairman Sheldon Adelson has endorsed Sen. Marco Rubio (R-FL) as its pick for Republican presidential nominee, while claiming that Adelson had nothing to do with the decision.
On Friday, the Las Vegas Review-Journal ran an editorial formally declaring its support for Rubio to win Nevada's Republican caucus on Feb. 23. The editorial stressed that Adelson's family had "detached themselves from our endorsement process" and that the LVRJ's endorsement "does not represent the support of the family."
Adelson is a mega whale in campaign finance circles, having reportedly contributed over $100m in the 2012 presidential cycle alone. However, few of the GOP candidates he supported won their races and Adelson has apparently concluded that flooding the airwaves with attack ads isn't enough; you need the façade of journalistic integrity to get your message across.
Adelson's acquisition of the LVRJ was controversial from the start. Having originally attempted to mask his involvement, he was eventually exposed by the LVRJ staff themselves. The staff also revealed that as Adelson was negotiating the purchase, his minions used LVRJ resources in a failed attempt to dig up dirt on a Nevada judge presiding over a wrongful dismissal case brought by a former Sands exec.
Since throwing his hat into the GOP ring, Rubio has relentlessly courted Adelson, bending over backward to be seen expressing pro-Israel sentiment. Rubio has also signed on as sponsor of Adelson's anti-online gambling legislation, the Restoration of America's Wire Act (RAWA), despite the bill's blatant trampling of states' rights, which are supposed to be up there with the 2nd Amendment on the GOP list of untouchables.
Rubio strayed off-script last October by suggesting he'd permit a poker carveout from any online ban. Adelson sees no distinction between poker and any other online gambling – except the mobile wagering available at Adelson's Nevada properties – going as far as to call it one of the "most addictive games."
Adelson's wife Miriam is said to favor Rubio rival Sen. Ted Cruz (R-TX). In November, the Adelsons each gave the personal maximum $2,700 to Cruz's campaign, but Sands corporate spokesman Andy Abboud told the Washington Post that the Adelsons had given to "several candidates" and the Cruz donations shouldn't be taken as a personal endorsement.