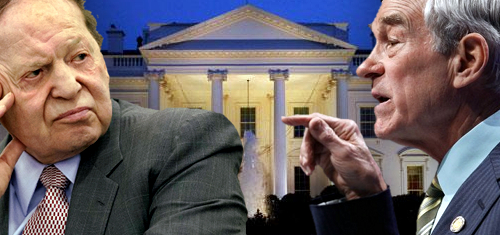 Libertarian icon Ron Paul has penned an op-ed warning Republicans that support for a federal online gambling ban will cost them the support of younger voters.
On Thursday, US News & World Report published an op-ed by the former Texas congressman warning that any politician who offers public support for the Sheldon Adelson-supported Restoration of America's Wire Act "is bound to come up with lemons."
RAWA seeks to reverse the 2011 Department of Justice opinion that the 1961 Wire Act applies to sports betting only. The opinion paved the way for the three current states – Nevada, New Jersey and Delaware – that have authorized intrastate online gambling. RAWA would force these states to scrap their online markets and prevent new states from joining the party.
Paul, who has expressed disdain for RAWA since it was introduced, argued that "young people's dissatisfaction" with President Obama could allow Republicans to pick up a lot of the youth vote in the 2016 election. But Paul's conversations with millennial voters have convinced him they are "alienated by the hypocrisy shown by too many conservatives who claim to favor individual liberty, yet support legislation like the iGaming ban because they disapprove of gambling."
Paul singles out two GOP presidential wannabes – Sen. Lindsey Graham (R-SC) and Sen. Marco Rubio (R-FL) – for "supporting legislation that combines an unconstitutional assault on individual liberty with cronyism." Without mentioning Adelson by name, Paul notes that RAWA is largely the invention of "one billionaire casino mogul."
Both Graham and Rubio have actively courted the political support of Adelson, who spent over $100m backing GOP candidates in the 2014 election cycle and is gearing up to do as much or more this time around. Paul says Adelson has used his money "to promote a hawkish foreign policy," which goes a long way toward explaining why Graham and Rubio are "some of the biggest hawks in Congress."
Paul says RAWA's passage would give the feds "a new excuse to spy on all of our online activities" and Paul warns that a conservative nanny state is "just as unconstitutional, and as dangerous to liberty, as a liberal one."