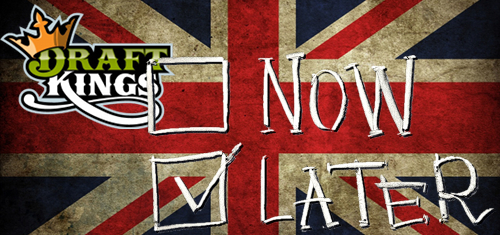 Daily fantasy sports operator DraftKings will delay its UK market launch until early 2016, according to a company spokesperson.
DraftKings received its UK Gambling Commission license in August and the company originally planned to launch its UK-facing site in October, but this was pushed back to December. On Wednesday, company spokesperson Pippa Hancock told Bloomberg Business that the launch had been pushed back again until "early next year."
Hancock declined to specify what drove DraftKings to postpone its UK debut, but there are a couple easy theories. For one, the company is up to its neck in legal fees trying to stave off an 'illegal gambling' tag in New York, while the company is also presumably spending big lobbying bucks to head off similar legal issues in other states while bracing for the potential arrival of a federal indictment.
Combine those extra expenses with the fact that the DFS business has been contracting rapidly for two months now. While DraftKings and rival FanDuel are still posting positive margins, the NFL season is almost at its end, which will leave an activity void that basketball and hockey won't be able to fill.
So expenses are up, revenue is down and investors have been so spooked by all the negative media attention that launching another funding round seems about as likely as Donald Trump launching a book tour in Baghdad. Sounds like the perfect time to launch a new quasi-gambling product in the most competitive online gambling market on earth, where people can already place real sports bets, not this Velveeta version of sports betting. Fearless prediction: expect further delays.
CALIFORNIA DFS HEARING ADDS LITTLE TO DEBATE
Wednesday also brought a DFS hearing courtesy of the California Assembly's Committee on Governmental Organization. Assemblyman Adam Gray, who filed DFS legislation in September, chaired the hearing, which would have seemed awfully familiar to anyone who followed recent informational hearings on the topic in Massachusetts and New Jersey.
While the legislators heard from a variety of stakeholders, there was no one on hand representing California Attorney General Kamala Harris, who was rumored to be at least considering following the lead of New York's Eric Schneiderman by declaring DFS to be illegal gambling.
The hearing did offer something relatively fresh by including a panel made up of three of the state's sports franchises that have partnerships with DFS operators. Reps from the LA Clippers, LA Kings and the Golden State Warriors all sung DFS's praises, particularly its ability to boost player engagement.
Assemblyman Marc Levine, who in November wrote a letter to Harris asking her to investigate DFS, repeated his belief that DFS was gambling then provided the day's most awkward moment by asking the teams how much their DFS partnerships were worth in dollar terms. After much hemming and hawing, AEG Global Partnership senior VP Nick Baker would only commit to a range of "4-5-6 figures." Well, that helps.
The hearing wrapped without any indication of what might follow, although there were no frothing at the mouth calls for leaving DFS operators out in the desert staked to an anthill, so unless Harris has a cease and desist order up her sleeve, crafting some regulations appears the most probable path forward.