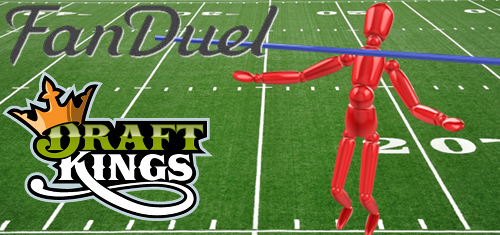 Daily fantasy sports activity fell in Week 14 of the NFL season, the eighth straight week of declines and the worst performance to date for the headline operators.
According to figures compiled by DFS stats masters SuperLobby.com, both DraftKings and FanDuel managed to stay in positive revenue territory for the week, reporting effective margins of 10.8% and 11% respectively. However, the profits are largely a reflection of the drastic cuts made to the guaranteed payouts at the operators' marquee contests, as activity level fell at both operators and across the entire industry.
FanDuel's combined guaranteed prize pool (GPP) and cash-game fees totaled nearly $18.8m, down 11% from the previous week and 53% less than the site enjoyed in its Week 6 peak. SuperLobby doesn't yet track DraftKings cash games, but the site's GPP fees were down 11% to $17.1m, a decline of 32% from their Week 5 peak.
In fact, every operator reported its lowest fees to date in the current NFL season. Third-place site Yahoo retreated 10% from the previous week to just under $780k, which represents a 40% fall from its Week 5 peak. Despite the decline, Yahoo posted a 6.5% margin, its second best showing to date and the third week of positive revenue in the past month.
It's hard not to see the ongoing legal drama in New York as contributing to Week 14's declines. Early Friday morning, a New York judge sided with the state Attorney General in ruling that DFS was illegal gambling and ordered operators to immediately cease their dealings with New York customers. Though the sites were granted a temporary stay on this ruling later that same day, players would have had a hard time missing the ensuing barrage of negative media headlines.
Despite the brouhaha, DraftKings has decided to boost the guarantee on its marquee NFL contest for Week 15. After weeks of trimming away at the Millionaire Maker's prize total, DraftKings is doubling the $2.5m guarantee offered last week. The site is also reinstating the contest's $20 entry fee after a single week of $3 entries failed to generate the desired uptick in volume.
FanDuel, which had withdrawn from the New York market following the AG's cease and desist order, announced on Friday that it would resume taking bets from New York customers. Despite an expected bump in activity levels, FanDuel is maintaining the previous week's guarantees for its marquee Sunday Million contest, with $1.75m total and $175k for the winner.
Comments