The National Rifle Association may have just helped save the US intrastate online gambling industry.
Wednesday brought the latest Congressional hearing of the Restoration of America's Wire Act (RAWA), the Sheldon Adelson-supported bill that would ban most forms of online gambling in the US of A.
Rep. Jason Chaffetz (R-UT), who chairs the House of Representatives Committee on Oversight and Government Reform and who introduced the House version of RAWA, is a loathsome human being with no real interest in learning the truth about online gambling. Sorry, but that needed saying before proceeding further.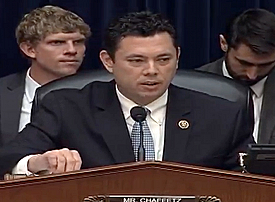 Right from the start, Chaffetz struck a sneering tone, claiming that "nobody with a straight face" can claim the internet can be "walled off" and thus there was no way to prevent intrastate online gambling from bleeding into other states that might not want gambling, like his home state of Utah.
Maryland Rep. Elijah Cummings, the committee's ranking Democrat, struck a contrary tone, saying there was plenty of evidence to suggest the proper regulation of online gambling was possible "if we have the will."
Rep. Bonnie Watson Coleman (D-NJ) stood up for the regulated online market in her state by saying that online gaming "poses no more challenges or risk to consumers" than brick and mortar casinos. She noted that the Division of Gaming Enforcement had reported no major infractions or meltdowns and whatever issues had arisen have been dealt with appropriately.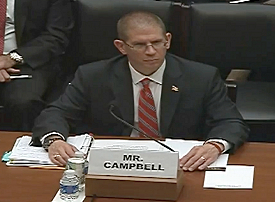 WITLESS TESTIMONY
The day's first witness was Joseph Campbell, Asst. Director, Criminal Investigative Division at the Federal Bureau of Investigation, which should scare the bejeezus out of Americans relying on the FBI to keep them safe.
It would be interesting to know when Campbell learned he would be appearing at the hearing, as he arrived utterly unprepared to answer a single question following his prepared remarks. Time after time, Campbell responded to any and all questions by saying he didn't know, he'd have to check his files or similarly whiffing.
Chaffetz appears to have invited Campbell in the hope that he would testify about terrorists using online gambling sties, and while Campbell did suggest there was one instance in which a terrorist suspect appeared to be chip-dumping to a co-conspirator on some unnamed poker site, he eventually conceded that the FBI had never prosecuted anyone for money laundering in this fashion. Worse, Campbell agreed that brick-and-mortar casinos were also potential money laundering channels.
(A panicked Chaffetz later introduced into the record a 2007 Washington Post article in which three men were accused of using stolen credit card info to launder money through "more than a dozen" online gambling sites, including Absolute Poker and Betfair.)
South Carolina Attorney General Alan Wilson employed the linguistic jujitsu that RAWA is a pro-state's rights measure, in that it would protect states that think online gambling is icky from the regulated operators in states that don't fear their own shadows.
Wilson was the first witness to incorporate the name of the hearing – A Casino in Every Smartphone – by saying the US Department of Justice's 2011 revised opinion on the scope of the Wire Act that opened the door for intrastate gambling had potentially turned "any mobile device in our state into a virtual casino."
Wilson took a page out of Donald Trump's fear playbook by repeatedly stressing that the online gambling firms operating in regulated states were "foreign owned," although Wilson stopped short of demanding that all foreign online gambling execs be turned away at US Customs checkpoints.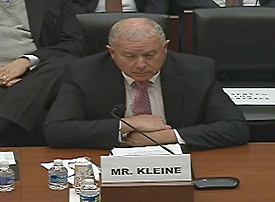 It was never quite clear why Donald Kleine, the Douglas County Attorney from Nebraska, warranted an invite to the hearing, but Chaffetz clearly wanted pro-RAWA wingnuttery from a demographic yet to be heard on the federal stage.
Kleine didn't disappoint, stating straight off the top that the DOJ's Wire Act rethink had "eliminated the risk of federal prosecution for online gambling," a claim that suggests Kleine cannot read. Kleine claimed the DOJ had "left policing of online gambling to state and local officials with limited resources."
Kleine also played the scary foreigner card, saying law enforcement had few tools to combat "massive foreign companies" who prey on the feeble resources of local law enforcement, thereby creating "even more opportunities" for online gambling sites to "launder money for much more dangerous operations."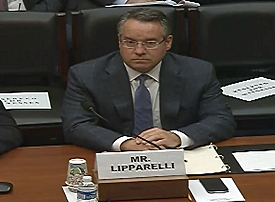 Standing athwart Campbell's inability to say much of anything and the other two panelists' fact-challenged fearmongering was Nevada State Sen. Mark Lipparelli, who previously served as the head of his state's Gaming Control Board, in which capacity he helped craft the country's first intrastate online gambling regulations.
Lipparelli noted that with three intrastate online gambling markets in operation for years now, there was "concrete knowledge" available "that does and should replace speculation." Lipparelli said Nevada's experience and his own personal journey gave him "confidence that the regulated model does work."
While acknowledging that no system was "entirely bulletproof," Lipparelli dismantled Chaffetz's claims regarding the futility of policing the internet by noting that attempts to compromise the state's online safeguards had been "revealed, thwarted, evaluated, and, where warranted, new standards are implemented."
FROM MY COLD DEAD HANDS…
The panel's first question came from Rep. Thomas Massie (R-KY), who challenged the suggestion that RAWA was intended to preserve state's rights. Massie noted that if RAWA were to pass, it could lead to passage of a firearms bill that Committee member Watson Coleman introduced this spring.
That bill, the Stop Online Ammunition Sales Act of 2015, would require all individuals who purchase bullets online to first verify their identity in person at a licensed retail firearms dealer. A clearly alarmed Massie suggested that if the feds could override 10th Amendment rights by dictating to the states how they could regulate gambling, what's to stop them from overriding 2nd Amendment rights?
Rep. Mick Mulvaney (R-SC) took up this theme, accusing his state's Attorney General of being a state's rights hypocrite. Flustered, Wilson claimed he was a staunch state's rights advocate and opposed to gun control, but online gambling was a "very unique industry."
An unimpressed Mulvaney countered that if the technology existed for states to properly oversee online gambling, then the federal government had no business butting their nose in.
SERIOUSLY, DID ANYONE READ THE STUDY MATERIAL?
Rep. Jody Hice (R-GA) stated upfront that, as a pastor for 25 years, he opposes all forms of gambling. However, he's also a fierce defender of state's rights, which "puts me in a quandary," since RAWA "flies right in the face" of the 10th Amendment.
Hice noted that the Georgia Lottery had been offering online tickets and other games for some time now and if the technology works, what role was there for the feds to play? Rep. Buddy Carter (R-GA) also expressed concern over the $10m the Georgia Lottery contributed annually to the state's education funding, which RAWA would eliminate.
Here, Wilson and Kleine displayed a remarkable ignorance as to the legislation for which they were advocating, with each of them saying they weren't opposed to intrastate online gambling, only the interstate kind. Meanwhile, the 2011 DOJ opinion they so vehemently oppose refers only to intrastate gambling and RAWA would indeed force state lotteries from conducting online activity of any kind.
Rep. Ken Buck (R-CO) threw Wilson and Kleine for a loop by asking them how they'd view a federal bill that would impose legal online gambling on all 50 states. Wilson admitted that he hadn't "put much thought" into such a possibility and declined to state whether or not he'd view such a bill as a pro-state's rights measure.
Kleine further displayed his ignorance when questioned by Rep. Glenn Grothman (R-WI), who asked if the DOJ opinion had resulted in more gambling in Nebraska, to which Kleine replied in the affirmative. Kleine also stated that it was his understanding that RAWA would give US law enforcement agencies more powers to prosecute international online gambling sites.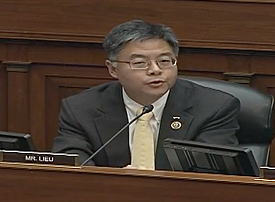 REALITY, WHAT A CONCEPT
Rep. Dina Titus (D-NV) isn't a member of the Committee, yet she was allowed a turn at the microphone. Visibly frustrated at the hearing's willingness to take RAWA talking points at face value, she directly challenged the "jabberwocky" belief that RAWA was a pro state's rights measure. She also noted the FBI's inability to cite any hard evidence to support its money laundering claims.
Rep. Ted Lieu (D-CA) was similarly blunt, saying there was "no basis in reality" for claims that the technology didn't exist to prevent out-of-state residents from playing on regulated sties. Lieu then played a 90-second video from geolocation specialists GeoComply detailing its protocols. Tellingly, Kleine didn't watch the video, spending the time with his head turned, conversing with someone in the front row.
THINK OF THE CHILDREN
Rep. Gary Palmer (R-AL) was the first legislator to invoke the 'think of the children' defense, albeit in more fiscally inclined terms. Palmer cited a class action case in which Apple was forced to refund money that kids had spent playing social games via their parents' iTunes accounts. Palmer wondered whether parents would be similarly liable if their kids ran up big blackjack bills.
Rep. William Lacy Clay (D-MO) asked the panelists if the technology existed to prevent kids from accessing online gambling sites. As usual, Campbell wasn't sure, while both Wilson and Kleine answered with emphatic negatives, and Kleine even said he could "probably" produce someone to refute anyone who claimed otherwise.
Lipparelli was (again) left to be the sole voice of reason, saying there were no ironclad guarantees, but that gaming's standards were "significantly greater" than those employed by most other online consumer businesses. Lipparelli also noted that online operators in the regulated states had yet to be confronted by widespread evidence of kids accessing the sites, while there was no shortage of prosecutions for underage gambling at brick-and-mortar casinos.
FOLLOW THE MONEY
In one of the day's wackier moments, Rep. Mark Walker (R-NC) noted that Sen. Harry Reid (D-NV) had recently been slammed for attempting to amend a federal law that would financially benefit casino operator Caesars Entertainment. Buck noted that Caesars is operating in two regulated online gambling states and wondered if the DOJ opinion didn't represent some kind of "bailout" for Caesars.
Maryland's Cummings pointed the financial finger in a different direction. Getting right to what he called "the bottom line" of this debate, Cummings said "it's about money." Cummings noted that brick and mortar casinos – like the kind run by Adelson's Las Vegas Sands – stand to make more money if they are the only gaming option in town.
ANOTHER CRACK IN THE WALL PT. 2
Chaffetz wrapped up his second RAWA hearing of 2015 with more sneering at his opponents, calling it "naïve at best to think you can put a wall on the internet." Chaffetz went on to claim that RAWA had a "whole host" of bipartisan support, when there are actually only 25 House co-sponsors (despite the bill having been introduced 10 months ago), of which only three are Democrats. So call that a whole host of bullshit. Much like Wednesday's hearing.