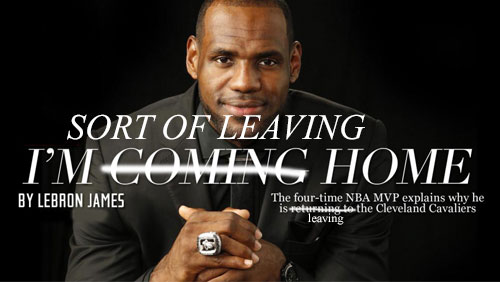 The NBA Draft is over and what's next? The NBA Free agency!
The four-time NBA MVP LeBron James is opting out of his contract with Cleveland Cavaliers for next season and will become a free agent on July 1, as expected.
The strategic move, marking the third time in the past six years that James will be a free agent, does not mean leaving the Cavaliers. This time, it'll be all about the money, allowing him to ink a more lucrative deal and possibly rake in more money.
In July 2014, rather than signing a four-year deal worth $94.5 million guaranteed with the Cleveland, James agreed to a two-year, $42.2 million deal with an opt-out clause after 2014-2015 season.
In James' current deal with Cleveland, he is due to make $21.6 million in 2015-2016 season. His max contract was capped at 35% of the 2014-2015 salary cap with 4.5% annual raises but by declining that option for the 2015-2016 season, James will be able to re-sign a new max contract under the same parameters but with significantly higher salary cap.
James is also expected to sign a one-year contract—a deal designed to make him a free agent when the salary cap rises in 2016 due to the league's new TV network deal with ESPN and Turner.
In the nine-year deal, ESPN and Turner will pay the NBA an average of $2.66 billion a year starting in 2016-2017, which would significantly increase the value of the league as well as the players' potential maximum contract starting in 2016.
James will squeeze $1.7 million out of the Cavaliers while also setting himself up to cash in when the new TV money sends the value of max contracts through the roof.
Cavs general manager David Griffin said the team had been in contact with James since the end of the Finals and that he was involved in discussions about the team's roster. James is likely to see how the team's free agency plays out before finalizing a deal.
Kevin Love also opted out of his contract with the Cavaliers last week but the Cavs is expected to make five-year contract, worth $110m offer for Love despite his shoulder and back injuries last season.
Comments