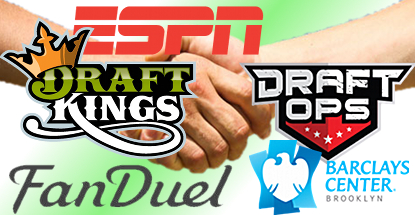 The Walt Disney Co. has abandoned plans to take a $250m stake in daily fantasy sports (DFS) operator DraftKings, but DraftKings' exclusive advertising deal with Disney's sports broadcaster subsidiary ESPN is going ahead.
In April, word spread that Disney was in talks to acquire a significant piece of DraftKings. On Tuesday, tech blog re/code reported that Disney had decided to walk away. No explanation has been provided for Disney getting cold feet, but the company's traditional anti-gaming stance may have left itself open to accusations of hypocrisy, given the DFS parallels with sports betting.
While DraftKings will have to look elsewhere for sugar daddies, its plan to become ESPN's exclusive DFS partner was confirmed on Wednesday. Terms of the deal weren't disclosed, but previous reports said DraftKings would be required to spend $500m on advertising with ESPN properties over a three-year span.
FANDUEL DEEPENS NBA TIES
It will be interesting to see how aggressively ESPN promotes DraftKings during National Basketball Association broadcasts, given that the NBA has an equity stake in rival FanDuel. This week, FanDuel announced that it had upped its number of exclusive multi-year DFS partnerships with individual NBA teams to 13. In April, FanDuel announced it had entered into similar deals with a total of 15 National Football League teams.
DRAFT OPS TO BUILD 'FANTASY SPORTS BOOK' AT BARCLAYS CENTER
Also on Wednesday, DFS operator Draft Ops announced it had inked a three-year "mid-seven-figure" deal with Barclays Center, the home of the National Hockey League's New York Islanders and the NBA's Brooklyn Nets (the latter team is among those that have deals with FanDuel). Draft Ops will become the Islanders' official DFS sponsor and will enjoy the usual signage and promotional tie-ins.
But Draft Ops will also get to build a new Fantasy Sports Book in the venue, which will launch in time for the Islander's home opener this fall. The news follows this week's announcement by restaurant/entertainment chain Latitude 360 that it was building its own fantasy sportsbooks at its properties after acquiring DFS operator Major League Fantasy.
A Draft Ops rep told Forbes that the company was discussing similar sponsorship opportunities with the NHL's Anaheim Ducks and New Jersey Devils. Draft Ops is also doing battle with DraftKings and FanDuel to sign whatever NBA teams have yet to firm up their DFS plans, although the DFS gold rush has reportedly pushed the price of these deals to over $1m per year.
Comments