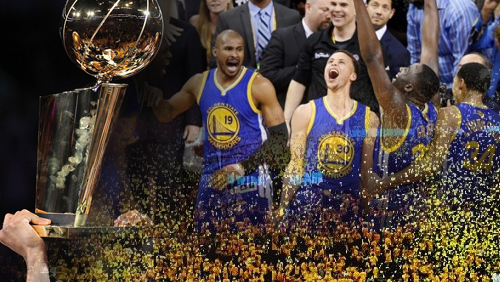 The Golden State Warriors won the 2015 NBA Championship, beating the Cleveland Cavaliers 105-97 in Game 6.
It seemed inevitable that the Warriors would grab the Larry O'Brien Trophy on Quicken Loans Arena—Cavs' home court—as they jumped out to 28-15 lead on the first quarter. Cavs managed to cut it 45-43 by halftime but the Splash brothers Stephen Curry and Klay Thompson splashed consecutive 3-pointers during a two-minute stretch to push the lead to 92-77 with 6 minutes remaining.
Draymond Green finished with a triple-double while Andre Iguodala matched the Regular Season MVP Curry to lead the game with 25 points.
Remarkably, Iguodala had not started a game this season until the Warriors reached Game 3 of the Finals but the 31-year-old won the NBA Finals MVP by a 7-4 vote over Lebron James who received 4 of the 11 votes.
Iguodala averaged to 16.3 points, 5.8 rebounds, 4.0 assists and 1.4 steals, all while defending James.
The visibly-drained James had 32 points, 18 rebounds and 9 assists in Game 6 and nevertheless, recorded one of the most memorable final performances in modern NBA history who average 35.8 points, 13.3 rebounds and 8.8 assists in the series for the short-handed Cavaliers. It was not a bad series for him after all.
"They were all in it just to win," said rookie coach Steve Kerr said of his players. "This is an amazing group of guys."
"This is truly special. This group is a special group. From the time we started the season this is what we envisioned and a lot of hard work goes into it, all the way down to the last minute of this game. This is what it's all about. We're going to remember this for a long time," said Curry.
The Warriors is one of the three original NBA franchises still in existence. The team won its first NBA title in 1947 and another in 1956. Dub City has not celebrated a championship since 1975 but Cleveland's half-century misery continues.
Bookmakers, on the other hand, made Cleveland the early favorite a 9-4 followed by the Golden State and the Oklahoma City Thunder at 5-1 while the Los Angeles Clippers 10-1 and  San Antonio Spurs and Chicago Bulls at 12-1.
James is a free agent but is not expected to move to another team while Kevin Love and Kyrie Irving, who were injured in the post-season, are expected to return next season.
Comments