California legislators held yet another hearing on Wednesday regarding proposals to legalize online poker, but the state's stubborn stakeholders failed to demonstrate any serious desire to resolve their differences.
The California State Assembly's Governmental Organization Committee hearing – titled The Legality of Internet Poker: How Prepared Is California to Regulate It – was a marathon affair, so without further ado, here's how it went.
PANEL ONE
How did Internet gaming evolve and what might the future hold from a legal, regulatory, economic, and operational standpoint?
State bean-counter Anita Lee started things off by saying the state's existing unauthorized online poker market was worth between $300m and $400m per year. Lee cautioned that it was unclear how many players currently playing on unauthorized sites would switch to state-regulated sites, particularly if taxes and fees provided a "fiscal disincentive" to do so.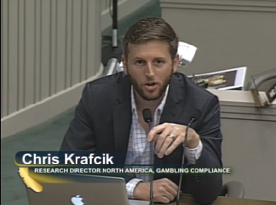 Gambling Compliance scribe Chris Krafcik said his estimates for the state's online poker market revenue would be $217m in its first full year, rising to $366m in its fourth year. Based on those numbers, Krafck estimated the state's tax share to be between $14m to $18m in year one, rising to $24m to $28m by year four.
PANEL TWO
Regulated Online Gaming: What can legislators, regulators and operators expect given the experience in legal markets to date and the related practices to effectively implement and regulate iPoker?
Spectrum Gaming Group managing director Michael Pollock said online poker would "best advance public policy if it is structured and designed to encourage casino visits" and not viewed purely as a fresh revenue source. Pollock noted that brick-and-mortar casinos were having difficulty attracting younger visitors and that online poker could help reverse this trend.
GeoComply CEO Anna Sainsbury walked legislators through the basics of geolocation, emphasizing that here hadn't been any "hiccups' in the regulated states. Assemblyman Jim Cooper was the day's most prominent skeptic, and he questioned Sainbury's claims of "100%" effectiveness at blocking unauthorized gamblers.
Responding to Assemblyman Craig Mayes' question on how GeoComply prevented the use of virtual private networks (VPN) and other 'spoofing' tools, Sainsbury said VPNs only mask IP addresses, while GeoComply also examined GPS and WiFi data as well as what software was running on each device used to access online sites.
Caesars Interactive Entertainment CFO Craig Abrahams made the day's first reference to defunct Ponzi scheme Lock Poker as an example of the kind of debacle a regulated market was intended to prevent. Abrahams echoed Pollock's claims by saying that, far from cannibalizing brick-and-mortar revenue, over 80% of New Jersey's online gamblers were new customers.
PANEL THREE
Enforcement and Regulation: What would be needed from a regulatory standpoint to implement and regulate iPoker in California?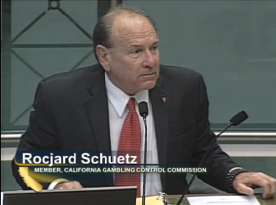 California Gambling Control Commission member Richard Schuetz (or 'Rocjard', as the video admin ID'd him) said his office had held regular Friday meetings with stakeholders and online operators, although Amaya Gaming/PokerStars was the only company he specifically mentioned. Schuetz also claimed to have visited the offices of companies like Playtech, Betfair, 888 Holdings and others.
Schuetz rubbished scare quotes by outfits like the Coalition to Stop Internet Gambling that online gambling was easily accessible by children. Schuetz said any cases of kids accessing online gambling sites were primarily the result of "bad parenting."
Schuetz lamented the fact that California has no gaming laboratory like Nevada or New Jersey and said the state would be the first to launch an online market without such a testing lab. Schuetz noted that the state's gaming regulators were chronically underfunded and understaffed but would "do our best" to add online to its regulatory responsibilities.
Bureau of Gambling Control (BGC) assistant chief Stacey Luna-Baxter noted that there was a backlog of over 2,400 cardroom-related applications that the BGC was still wading through. Assemblyman Cooper seized on this point, saying regulators appeared to have enough on their plates without adding new responsibilities. Luna-Baxter reminded him that the BGC had submitted requests for additional funding but Cooper expressed doubt that the money would be forthcoming.
Assemblyman Reggie Jones-Sawyer asked whether regulators were up to the challenge of determining who is or isn't a 'bad actor', i.e. a company that took wagers from Californians following the 2006 passage of the federal Unlawful Internet Gambling Enforcement Act (UIGEA). Luna-Baxter said the BGC would address the suitability issue "no differently from any other applicant that comes through the door."
Schuetz said he had "100% faith" in the BGC's ability to vet applicants and joked that the only bad actor he knew was former Gov. Arnold Schwarzenegger. Schuetz noted that Nevada had included a bad actor clause in its online legislation while New Jersey didn't. Schuetz said that in both cases, legislators had made a decision and regulators responded accordingly.
PANEL FOUR
Suitability Standards for Licensure: What suitability standards should be considered in an iPoker framework bill to deem a licensee eligible for licensure?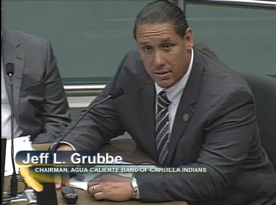 This panel was the main event, pitting both sides of the 'bad actor' debate against each other. First up was Jeff Grubbe, chairman of the Agua Caliente Band of Cahuilla Indians, which is part of the tribal coalition that is vehemently opposed to PokerStars doing business in the Golden State.
Grubbe said the issue had created "a divide as large as the Coachella valley" between stakeholders. Grubbe didn't spare the invective, saying "foreign interests" had "flaunted the law" by serving California gamblers, and the $4.9b sale of PokerStars "tainted assets" (software, brand, player database, etc) to Amaya hadn't scrubbed these assets of their sins.
Grubbe also warned that online poker was "not sustainable in the long run" all by its lonesome. Grubbe said that if PokerStars – which is aggressively diversifying into casino, sports betting and other verticals – was allowed into California, "they will push for full-scale internet gaming."
Next up was Leland Kinter, chairman of the Yocha Dehe Wintun Nation, which operates the Cash Creek Casino and is also part of the anti-PokerStars coalition. Kinter said it was false to say his group opposed all online poker legislation, insisting that the tribe supports legislation that restricts licenses in "meaningful and protective ways."
Kinter said this tribe's concerns were threefold: bad actors, racetracks trying to encroach on tribal turf and the overstressed duties of state regulators. Kinter noted that regulators were having a difficult enough time keeping cardrooms in line without adding new and "far more complicated" responsibilities.
Kinter noted the controversy over cardrooms offering baccarat and blackjack variants that he believes are house-banked games, which are supposed to be restricted to tribal casinos. Yet cardrooms "boldly advertise that they play Las Vegas-style blackjack" and regulators do nothing.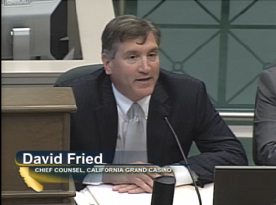 David Fried, chief counsel for the California Grand Casino cardroom rubbished Amaya's stance that Pokerstars' $731m deal with the US Department of Justice had come without a conviction for any criminal offense. "If Richard Nixon were here today, he could say the same thing."
Fried believes letting PokerStars into California would "provide incentive for more illegal activity." Fried says such a decision would teach unauthorized operators that there was value in continuing to grow their business, knowing they could always sell out to a 'clean' entity down the road.
Lynn "Nay" Valbuena, chairwoman of PokerStars' California coalition member San Manuel Band of Mission Indians, briefly addressed the bad actors issue, saying it was a decision best left to regulators, not legislators. Valbunea's tribe supports Committee chairman Adam Gray's AB 431 poker bill.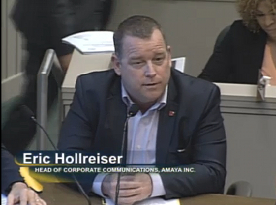 Amaya/PokerStars spokesman Eric Hollreiser was next, slamming bad actor critics as a "few entrenched interests that have worked hard and spent a lot of money" to avoid competition.
Hollreiser challenged Stars reputation as a bad actor, saying that Stars had only offered a skill game (poker), unlike some of its more diversified competitors who left the US market post-UIGEA. Clearly referencing PartyGaming, Hollreiser noted that some of those companies had admitted their guilt and yet were still found suitable for licensing in New Jersey.
Hollreiser claimed that Stars was never the subject of a criminal complaint, clearly 'misremembering' that Stars former boss Isai Scheinberg was criminally charged and would be clapped in irons if he set foot on US soil.
Assemblyman Cooper went after Hollreiser's statements regarding Stars' settlement, saying they "didn't pass the smell test." Cooper claimed that people who aren't guilty don't usually pay $731m fines. Hollreiser said the settlement wasn't a fine, prompting Cooper to utter: "I mean, c'mon…" Undaunted, Hollreiser said he "stands by the doctrine of presumed innocence."
Keith Sharp, an attorney representing the three cardrooms aligned with PokerStars, called the move to banish Stars "blatant, arbitrary and unfair." Sharp said bad actor determinations should be up to regulators, and that "conviction by legislation is simply unconstitutional."
PANEL FIVE
Horse Racing's Eligibility: Should California's horse racing industry be included as an eligible licensee in an iPoker framework bill?

Mike Pegram, chairman of the Thoroughbred Owners of California, noted that three tracks had closed and wagering had fallen 45% in the 15 years since California voters approved Vegas-style gaming at tribal casinos. Pegram said racing wasn't looking for a handout, just a level playing field and the right to control its own destiny.
Pegram said online advance deposit wagering (ADW) represented 28% of racing revenue and was racing's only growth vertical. As such, adding online competition without allowing the tracks to participate would be disastrous for the industry.
Mark Macarro, chairman of the anti-PokerStars Pechanga Band of Luisefio Indians, noted that tracks have "zero history" with poker of any kind and that allowing ADW sites to add a poker tab would represent an unwarranted expansion of gaming. Macarro said each branch of the state's gaming entities should "stay in its own lane."
Macarro noted that there had been four legislative efforts to expand gaming since the 1995 law that authorized cardrooms and voters had rejected all four. In 2004, 85% voted against adding slots to cardrooms and tracks.
However, Macarro offered an olive branch by suggesting the state's licensed online poker operators would be willing to divert an unspecified portion of revenue to the tracks. Macarro also suggested tracks could generate revenue by acting as affiliates for online poker operators.
During the Q&A that followed, the Stronach Group's west coast chairman Keith Brackpool rejected revenue sharing, saying it wasn't right that the state's other gaming entities should determine "what morsel" of poker revenue tracks deserved. Brackpool also suggested there was no one currently in the internet poker "lane" and that all parties were "converging to the middle,' which must be done "with great care and awareness."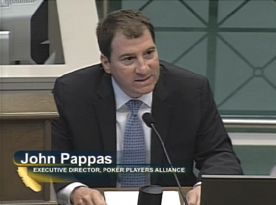 PANEL SIX
Consumer Perspective: Should California authorize and regulate online poker?
Poker Players Alliance exec director John Pappas said there was "no public policy justification for the status quo," citing "rogue website" Lock Poker as a reason for legislators to act without delay. Pappas criticized stakeholders for fighting over slices of the pie when "the pie is not even baked."
Pappas was followed by Robert Uithoven of the Coaltion to Stop Internet Gambling, whose testimony was utterly predictable and notable only for the fact that he didn't ape Las Vegas Sands' Andy Abboud by whipping out his smartphone and claiming it was a casino.
Following some unexciting public comments from the gallery, the hearing mercifully came to a close, four and a half hours after it began. Sadly, the day's events offered little hope that stakeholders will be able to resolve their differences to permit passage of online poker legislation in 2015. The Agua Caliente's Grubbe spoke for many on Wednesday when he noted the repetitive nature of these hearings. So wake us in 2016 when it's all finally over, okay?