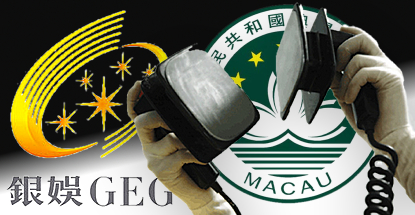 Wednesday marks the official launch of Galaxy Entertainment Group's Broadway Macau and Galaxy Macau Phase 2, the first new major resort Macau has welcomed in three years.
Unlike Sands Cotai Central, which was born during Macau's boom, the $2.1b Phase 2 arrives in a time of relative scarcity. Macau has been mired in a nearly year-long revenue slump and all of the other Macau concessionaires finishing up their own mega-projects on Cotai want to see what effect Phase 2 has on the market. Will it provide more than a short-lived bounce or will it become another casino mouth feeding off an ever shrinking pie?
The new hotels at Phase 2 and Broadway Macau will bring an additional 1,570 suites and rooms online, boosting Galaxy Macau's total number of residences to over 4k. One of the new hotels is a Ritz-Carlton suites-only property, and its president intends to target high-rollers "as much as I can." Despite the dwindling number of VIPs currently visiting Macau, Herve Humler said he expects to enjoy around 90% occupancy in the property's first year.
95% IS A 'D' IN MACAU, APPARENTLY
GEG's chief marketing officer Kevin Clayton told the Macau Daily Times that non-gaming amenities accounted for "95% of our investment" in the Phase 2 expansion and the remodelling of the old Grand Waldo into Broadway Macau, GEG's new 'entertainment precinct.' Clayton conceded that GEG earned "the vast majority of our revenue" from gaming but said GEG was "following the vision and the values of the Macau government" in diversifying beyond gaming.
Almost wholly dependent on gaming revenue, Macau is trying to become more like Las Vegas, where gaming is no longer the main draw. To speed up this transition, Macau has linked companies' diversification efforts with how many new gaming tables their under construction Cotai properties will be allocated under the infamous gaming table cap. However, the judging criteria were never explained, adding a fresh layer of uncertainty to casino development in Macau.
WHEN LIFE HANDS YOU LEMONS…
Last week, GEG learned that Phase 2 would be allocated 150 new gaming tables, well below the 400 the company had sought. Clayton said the company would face this "challenge" by "yielding those assets in the best way that we can."
Galaxy Macau director of operations Richard Longhurst told a media scrum that the number of new tables was "sufficient for the current situation." Longhurt said Phase 2 would open with 200 tables by pillaging tables from Galaxy Macau and GEG's StarWorld property. Longhurst said 75% of the new tables would be destined for the mass market – with an emphasis on premium mass – but ultimately, table allocation would be "based on where we think the growth opportunities are."
Union Gaming analysts believe three major junket operators – SunCity Group, Tak Chun Group and Guangdong Group (Macau) aka Neptune – will each operate around 16 VIP tables at Phase 2. A further 24 VIP tables will be run by Galaxy's self-managed Jinmen Premium Club. To meet this demand, Union Gaming suggested that around 30 VIP tables were transferred from Galaxy Macau and/or StarWorld.
Union Gaming expects Phase 2 to be "a near-term market share taker across all segments." The 38 gaming tables that Galaxy Macau borrowed while the Grand Waldo was undergoing its makeover have been returned to Broadway Macau's small casino. These tables will be aimed at the regular mass market, allowing Phase 2 to shake up the premium mass market.
Union Gaming said Phase 2's "most interesting premium mass space" wasn't finished in time for the opening, but it will eventually become a big draw. The space is reportedly based on the "sky casino" concept previously reserved for VIP gaming areas.