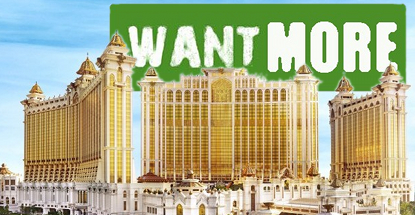 Macau casino operator Galaxy Entertainment Group (GEG) has reportedly been awarded 150 new gaming tables for Phase 2 of its Galaxy Macau resort.
News of the 150 tables, which was broken by Portuguese-language newspaper Jornal Tribuna de Macau, has yet to be confirmed by Macau authorities. The paper offered no word on GEG's request for 444 slot machines for Phase 2.
The table allocation is less than half the 400 tables GEG had requested for its new property, which has its grand opening on May 27. There's nothing preventing GEG from putting 400 tables into the Phase 2 venue, although doing so would require the company to shift tables from Galaxy Macau's Phase 1 or GEG's StarWorld Hotel.
Macau's government has played coy regarding its table allocation strategy, insisting that it planned to stick to its plan of restricting annual table growth to 3% until 2022, while simultaneously suggesting that the gaming table cap had some flexibility built in, with consideration granted to operators who did their utmost to diversify their new properties beyond gaming. Understandably, GEG is said to be disappointed by the Macau government's decision, given its dedication to boosting Phase 2's non-gaming amenities.
GEG's allocation could spell a nightmare for Melco Crown Entertainment's new Studio City resort, which is set to open in Q3. Given that there were 5,711 gaming tables at the end of 2014, GEG's 150 new tables would leave just a little over 20 tables remaining under this year's cap. In April, Melco Crown warned that getting less than 400 new tables would technically put it in default of a $1.4b loan obligation.
However, the Jornal Tribuna de Macau said the government planned to review their table game formula to account for Studio City's opening. The government had previously hinted that the annual growth cap might not follow a strict 3% per year rate, provided the eventual number of new tables didn't exceed the cumulative total the government planned to issue by 2022. The last of the mega-projects currently being built on Cotai will likely be open by 2018, which could allow the government to rob the future to pay the present.
Comments