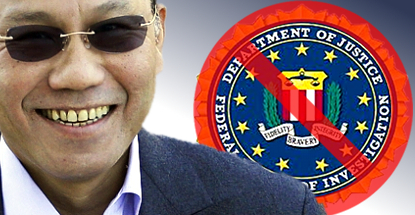 Accused illegal online bookie Wei Seng 'Paul' Phua has won a major court fight over the admissibility of evidence against him collected by the Federal Bureau of Investigation.
On Friday, US District Judge Andrew Gordon ruled that federal prosecutors couldn't use evidence obtained via an elaborate FBI ruse. Gordon also said the FBI had violated Phua's privacy rights in pulling off their investigative shenanigans.
Phua and seven other defendants were arrested last July following an FBI raid on three luxury villas at Caesars Palace in Las Vegas. Suspecting the occupants were engaging in illegal online betting on the 2014 FIFA World Cup, the FBI conspired with Caesars staff to cut off the villas' internet connection. When Phua & Co. called Caesars to complain, the FBI sent in agents posing as tech support equipped with hidden body-cameras. The video footage was then used to obtain the warrants that led to the arrests.
The case attracted attention far beyond gambling circles, as civil libertarians decried what many viewed as violations of the suspects' fourth amendment rights against illegal search and seizure. Even the Assistant US Attorney handling the case had warned agents in advance that their subterfuge raised certain "consent issues."
Gordon said that allowing prosecutors to use the evidence "would effectively allow the government to conduct warrantless searches of the vast majority of residences and hotel rooms in America … Allowing law enforcement to engage in this conduct would eviscerate the warrant requirement."
Gordon went on to say that that the government "need only disrupt the phone, cable, internet or some other 'non-essential' service, and reasonable people will opt to invite a third party onto their property to repair it, unwittingly allowing government agents into the most private spaces to view and record whatever and whomever they see."
Gordon's decision supports a February ruling by US Magistrate Judge Peggy Leen that called the FBI evidence "fatally flawed" due to agents having made "false and misleading statements" to obtain the warrants. Prosecutors had appealed this ruling, leading to Friday's decision.
It's unclear how prosecutors will now proceed in their case against Phua, who is facing charges of illegal transmission of wagering information and operating an illegal gambling business. In making their case for the evidence's admissibility to Leen, prosecutors had suggested the evidence was crucial to their case.
Phua attorney David Chesnoff called Gordon's ruling "a great day for American citizens and Mr. Phua." But the victory came too late for the other seven defendants, six of whom had already reached costly plea deals with prosecutors. The seventh had his charges dropped.
The most recent plea deal involved Phua's 23-year-old son Darren, who accepted a $100k fine and the forfeiture of an additional $125k in order to return to his native Malaysia after seven months of house arrest in Vegas.