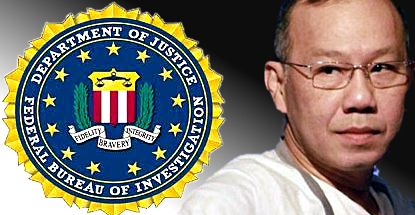 Attorneys defending Paul Phua (pictured) against illegal betting charges have doubled down on their assertion that the searches that led to the arrests were unconstitutional and thus any evidence obtained via these searches is inadmissible. Phua and seven other individuals were arrested in July at Caesars Palace in Las Vegas and charged with running an illegal online sports betting operation out of three luxury villas.
In previous filings, the government admitted that it caused the internet outages that prompted Phua to call for technical assistance, which arrived in the form of federal agents disguised as the geek squad. Equipped with hidden cameras (but without a search warrant), the agents used the footage to obtain arrest warrants. Phua's attorneys say this admission "confirms our worst fears" about the government's willingness to do what it takes to engage in warrantless searches.
The attorneys argue that "no law enforcement agency in the nation has ever attempted [these tactics], or even taken the position that it would be lawful to do so and no court has ever approved it." The attorneys call the feds' tactics "a grave threat to privacy." The filing quotes a New York Times editorial on the case that said the "deceptive tactics, if not prohibited by the [FBI] or blocked by courts, risk opening the door to constitutional abuses on a much wider scale."
The attorneys say the government believes it can "cause a water leak so long as it does not create a catastrophic flood. It can disrupt cable television service because nobody really needs it … Whenever citizens insist on maintaining their privacy from the government, agents may torment them from outside to pry open the doors."
NO EVIDENCE OF BRIBES, TRIAD LINKS
The attorneys reject the feds' allegation that Phua bribed Macau officials to let him skate on similar charges. In June, Macau police made what they described as the special administrative region's biggest illegal sports betting bust. Shortly after that bust, Phua and his entourage made their way to Las Vegas. US officials claim to have found messages on Phua's son's phone indicating that Phua Sr. was "negotiating" how much it would take to convince Macau authorities to release him.
Phua's attorneys object to the government's claims that Phua was "involved in a raid and arrest at the Wynn Macau casino resort property for his involvement in running a large scale bookmaking operation." Phua's attorneys say the government has "no evidence that Phua was 'running' anything," having "relied on mere press reports of the arrest, not any evidence of guilt."
Phua's attorneys also slam the feds for linking the defendants to Hong Kong's 14k Triad without offering any evidence to support such a claim. The attorneys believe the link was made purely to sway a federal judge into issuing the arrest warrants.
The FBI also claimed to have seized documents during their villa raids indicating that Phua's group was using Macau junket operator Neptune Group to settle wagers with its high-rolling betting clients. The FBI says it found a digital photo of a passport belonging to Cheung Chi-Tai, a major investor in Neptune and the alleged leader of the Wo Hop To Triad. Phua's attorneys have denied any links between their clients' betting activity and Cheung.
Comments