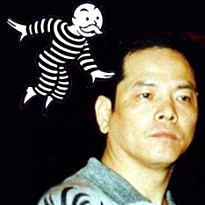 Macau junket operator Amax Holdings Ltd. saw a marginal increase in turnover in the six months ending September 30, but the company reported a loss of HK14.96m (US $1.93m) compared to a profit of HK211m ($27.2m) in the same period last year. The reversal is credited/blamed on Amax not receiving financial data "in a timely manner" from casino operator Greek Mythology Entertainment, in which Amax holds a 24.8% stake. There's a bit of a schism between Amax and the Greeks, but through "ongoing negotiation," Amax "expects" to eventually include those financial figures in its H2 report. This summer, the Greek Mythology Casino terminated the operating rights of 40 of its gaming tables and returned them to SJM Holdings for use in its other casinos (damn you, table cap). That represents one-third of the Greek's total tables, which will obviously have an "impact" on Amax's share of the proceeds.
If you recall, Amax's chairman/CEO/largest shareholder Ng Man-sun was attacked in June at the New Century Hotel. Media reports at the time said Ng's attackers were six men who used sticks and hammers to beat Ng everywhere but his head. However, Macau Business Daily reported this week that two sources had claimed the attack involved cutting the tendons in Ng's legs and arms "to disable him, albeit not for life." One source described this as a standard triad tactic "meant to humiliate him and to warn him." Warn him of what exactly?
14K TRIAD LEADER WAN 'BROKEN TOOTH' KUOK-KOI A FREE MAN
Ng was the target of a failed drive-by shooting at the same hotel in 1997, a year before Wan 'Broken Tooth' Kuok-koi was arrested for triad activities in Macau. Back then, gambling in Macau was still under Stanley Ho's monopoly and Portugal was preparing to return control of the island to China. Triads like Wan's 14K outfit engaged in open gun battles on the streets as they warred for control of this or that illegal revenue stream. Wan's May 1998 arrest came shortly after the mysterious explosion of a car belonging to the city's top cop (who wasn't in the car when it blew and thus survived). In November 1999, Wan was sentenced to 15 years for loansharking, criminal association and illegal gambling. On Saturday morning, having served over 14 of those years, Wan walked out of Coloane Prison, got into a white Lotus and drove off a free man.
A lot has changed during Wan's stint in stripes. Stanley Ho's monopoly is gone, as is Stanley, for the most part. There are now six gambling concessionaires, including three US casino giants, annual gambling revenue has increased twenty-fold and a fetid swamp has been replaced by something called the Cotai Strip. Triads are reportedly active via the city's junket operators, but they've gone semi-legit, and the slightest hint of the old violence returning – such as the attack on Amax's Ng – is enough to provoke a massive response from the authorities.
Police even delivered a preemptive strike last weekend, arresting five individuals, including Wan's former right hand man (and former cop) Artur Chiang Calderon, who spent over 10 years in jail after being convicted alongside Wan. Calderon and the other four suspects arrested on the weekend face charges that include attempted murder. Wan's brother Kuok-hung, who served five years in prison, now makes his living in the junket trade. There's speculation Wan will attempt to reintegrate himself into the Macau scene via the junket business, but Wan's lawyer told the South China Morning Post what the 57-year-old Wan wanted most "is for people to forget him … he's going to lead a quiet life from now on."
With the humorless regime in Beijing keeping a sharp eye on Macau nowadays, the likelihood of Wan's release sparking a return to the bad old days appears slim. As for Wan's future job prospects, the local police will be watching him like a hawk, so the casinos won't necessarily welcome the extra attention an association with Wan would bring. But Wan may yet find his niche, assuming he's willing to adapt to the enclave's new rules. Credit Suisse Analyst Gabriel Chan told Bloomberg that there was so much money at stake in the modern Macau that "if I were another junket, I'd do my best to stop [Wan] messing things up." Just go easy on his tendons, okay?