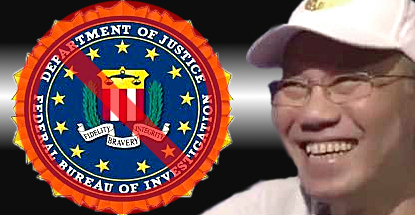 Fourth amendment fans got a boost on Monday after a US federal judge said key evidence against accused online gambling operator Wei Seng 'Paul' Phua (pictured) was inadmissible. In a 32-page ruling, US Magistrate Judge Peggy Leen said Federal Bureau of Investigation agents had made "false and misleading statements" to obtain evidence that Phua and others were running an illegal online sports betting operation out of three luxury villas at Caesars Palace in Las Vegas.
Phua was one of eight defendants arrested last July following a FBI raid on the villas. Prior to the raid, the FBI had switched off the villas' internet connections, then, after the villas' occupants called Caesars for help fixing the problem, sent in agents disguised as tech support wearing hidden body cameras. Using the evidence obtained via this subterfuge, the FBI was able to obtain the necessary arrest warrants.
However, before the FBI executed its scheme, Assistant US Attorney Kimberly Frayn had warned agents that their plan raised "consent issues." Caesars' security boss testified that he'd declined to participate in the FBI's plan due to "privacy concerns." The agents themselves omitted key details of their scheme in their arrest reports, which Phua's attorneys claimed was proof that the FBI knew it was violating the US Constitution's prohibition of unreasonable searches and seizures.
In her ruling, Judge Leen said the FBI's errors and false statements had rendered their search warrant "fatally flawed" and thus removed any semblance of probable cause to justify the raid. Leen noted that a search warrant "is never validated by what its execution recovers." Phua attorney David Chesnoff called Leen's ruling "a triumph for citizens everywhere, showing that courts will enforce the Constitution."
Chesnoff demanded that the charges be dismissed against Phua and his son Darren, the only two defendants to have not reached plea bargains with prosecutors. The news came too late for defendant Seng Chen 'Richard' Yong, who pled guilty in December to being an accessory after the fact for the transmission of wagering information. But Yong just earned more than triple the sum he gave the feds in fines and forfeitures by winning the Aussie Millions' High Roller event, which he wouldn't have been allowed to compete in had he still been fighting the charges.
Federal prosecutors will likely appeal Leen's recommendation, given that they've already publicly stated that their case hinges on the evidence seized during the FBI raid. The case is being heard by US District Judge Andrew Gordon.