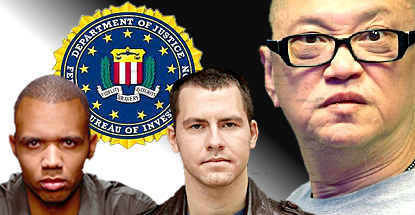 Three more members of the alleged Paul Phua-led illegal sports betting ring have been released on bail after the poker community rode to their rescue. Seng Chen 'Richard' Yong (pictured far right), a 56-year-old Malaysian junket operator with a fondness for high-stakes poker, was released Thursday after posting $1.5m bail. One-third of Yong's bail came from his poker-playing pal Phil Ivey (pictured lower left), while the other $1m came from fellow poker heavyweight Dan Cates (lower right).
Ivey put up another $500k to bail out Yong's 22-year-old son, Wai Kin Yong. The Las Vegas Review-Journal quoted Ivey saying the Yongs were personal friends for whom he had 'the utmost respect and trust." (And Yong Sr. told the court he had $2m in cash sitting in a Caesars Palace safe.) A third suspect, 44-year-old Hong Kong property developer Hui Tang, has had his own bail set at $1.5m bond.
The three released men were among the eight individuals arrested a few weeks back for allegedly running an online sports betting operation from three luxury villas at Caesars Palace casino in Las Vegas. The FBI claim that the World Cup betting ring was run by Phua – another noted poker whale and reputed owner of online betting giant IBCbet – who made bail on Wednesday along with his son Darren after Ivey and poker pro Andrew Robi put up another $2.5m.
As part of their bail conditions, the Phuas have agreed to slap on ankle bracelets and confine themselves to the home of a local poker-playing gynecologist (sounds like a perfect sitcom setup). The Yongs have been 'billeted' with poker pro Gabe Patgorski while Tang will be staying with Tom Dwan. Dwan was reportedly on the scene when the FBI made their arrests and has signed an affidavit "questioning the tactics" the feds employed in breaking up the alleged sportsbook fun.
Meanwhile, the younger Yong's attorney has asked the court to dismiss charges against his youthful client on the grounds that he's (wait for it) entirely innocent. The filing argues that a laptop seized during the raid – logged on to Asian betting site SBObet at the time – employed a 'WaiKin' user name only because Jr. had bought the computer as a gift for his dad and decided to go the extra mile and set it up for him in advance. A Facebook post from November 2013 is cited as evidence of this gift. Wai Kin's actual computer was reportedly in another room, far from the alleged betting activity, likely streaming some hardcore porn.