Italian lottery and gaming technology firm GTECH and US gaming device maker International Game Technology (IGT) have completed combining their businesses and started trading on the New York Stock Exchange (NYSE) on Monday under the ticket symbol IGT.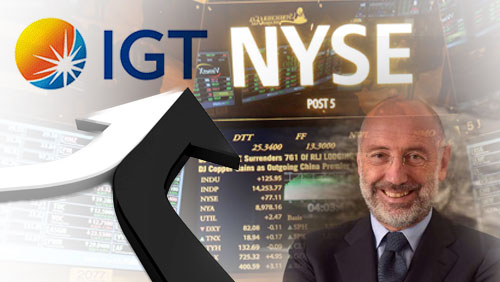 The stock closed at $20.08 on Tuesday, up by $2.40 or 13.6% from the opening on about twice the normal volume of shares traded.
"We are pleased to welcome IGT to the NYSE," said Thomas W. Farley, NYSE Group President. "IGT is a premier global gaming operator shaping the future of entertainment and gaming, and an excellent addition to the NYSE's community of the world's leading companies."
IGT will establish a corporate headquarters in London with key strategic offices in Rome, Italy, Las Vegas, Nevada, and Rhode Island and long-term GTECH CEO Marco Sala will take up the new position of Chief Executive Officer of International Game Technology PLC.
Speaking with the Las Vegas Review-Journal, Sala said the company would continue to focus on casino products and technology, maintaining its research and development in Nevada while its U.S. lottery operations will be housed in Rhode Island.
IGT is also expected to increase its investment in technological development and interactive products that are appealing to new, younger audience in the next few months.
"We'll take advantage of the content library we have acquired and offer it across all platforms, slot machines, our lotteries, social media, mobile and interactive (Internet gaming)," Sala said.
Sala also expects market share to increase and expand its reach to new customers in new geographic locations and channels.
"Regulated gaming clients across both the government and private sectors are seeking reliable, secure and innovative ways to increase revenue and drive profitability, and IGT is the trusted go-to partner in this space," Sala said. "We will provide top-performing content across multiple platforms enabling players to experience their favorite games across all regulated segments and channels, all with our unwavering Customer First approach. With a truly global reach, we will share expertise and experience both geographically and across market segments. The combination of GTECH and IGT is a winning combination."