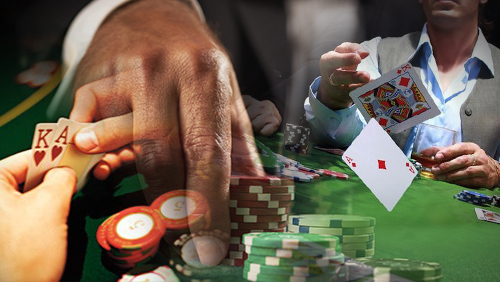 This is a guest contribution by Steven Miller President of Card Shark Media Inc. If you would like to submit a contribution please contact Bill Beatty for submission details. Thank you.
First of all, I'd like to express my thanks to Alex Dreyfus and his team for organizing the 1st annual American Poker Awards that were held last week in Los Angeles. This was truly a special event that promises to bring online and brick & mortar operators, media, poker communities and content providers, and professional and recreational players into a unified and vibrant global industry.
A recurring theme mentioned by both professional players and poker room managers was the critical importance of bringing new recreational players into the game. There was a discussion of interpretation of tournament rules that gives the benefit of the doubt to recreational players when found to be in technical violation of sometimes arcane rules. There was a discussion of the flattening of the WSOP Main Event payout structure to give as many as 300 more players the opportunity to cash in what probably will be remembered by many as a lifetime bucket list event.
And one, poker room executive, Mr. Adam Altwies of the Aria Resort and Casino, told a story about an interview with poker pro Shaun Deeb, who after playing in a WSOP event, described a hand he played using a gibberish-like vernacular that could only be understood by a tiny percentage of the world's 150 million poker players. Mr. Altwies' advice to Shaun was to tell his story in plain English!
This reminds me of a tweet written by another poker pro, Andy Frankenberger. Here's how it went:
"@AMFrankenberger: Then UTG 3300, call, I call btw w 22, BB call. Flop 245 dd. UTG 10k, me 20K, BB 50k(puke), fold. I tank/shove/pray. Him A3. Riv 4!"
Huh?
Well, I wholeheartedly agree with Mr. Altwies' sentiments, and that's one of the reasons why my company developed the ShareMyPair hand replayer app for live game players.
If you want to engage with the world's recreational poker players, talk to them in a language they understand. Better yet, use an animated hand replay to tell a highly engaging poker story about an interesting, entertaining or educational poker hand.
By the way, here's Andy Frankenberger's poker hand tweet ShareMyPair-style:
http://www.sharemypair.com/smpweb/smpviewdetails/feed_id/4935
So, come on poker pros and poker tour operators of the world, start relating to the average recreational player. We need them and we've got to get them into the local card room and sign them up for tournament play in order to keep our industry growing.
Talk to them in a language they understand. Engage and communicate.
Give ShareMyPair a try!
Reprinted with permission of Card Shark Media Inc.