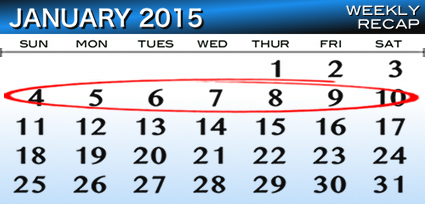 THE AMERICAS
Caesars Entertainment convinced enough senior creditors to approve its bankruptcy restructuring; New Jersey reflected on its first year of regulated online gambling while Ray Lesniak promised PokerStars would hit the Jersey shore by March; Ontario officially launched its own online gambling site which made Alberta jealous; Indiana got its own sports betting legislation and the former NBA commissioner backed his replacement's pro-betting position; the Iipay Nation filed a motion to dismiss the state's case against their bingo site; Pennsylvania slots revenue fell for the second straight year; Paul Phua lost his bid to play poker while awaiting his sports betting trial and Income Access' Allan Petrilli and Max Value Software's Steve McLoughlin discussed affiliate marketing in America.
EUROPE
Germany convicted a player for gambling online; Unibet acquired Bingo.com and got spanked by the UK's ad watchdog; Ladbrokes exited more European grey markets and secured a Rugby League sponsorship; Paf bought into the Italian market by acquiring Winga; Russia banned problem gamblers from driving; Romania amended its online gambling laws; PokerStars did an abrupt U-turn on its rake changes and vowed that its Spanish online casino would return shortly; Shane Warne bid 888Poker buh-bye and 53Outs' Sinead Quigley Maher wondered if pros were allowed to have personal opinions; a European Union court said OPAP's VLT deal was legit; Carl Hendy explained why SEO in online gambling needs to improve while Bastian Grimm explained the pros and cons of black hat SEO; the Keiser Report's Max Keiser explained why online gambling sites should embrace Bitcoin; Robbie Davies explained how to be an igaming conference hero and Rebecca Liggero previewed the January conferences at which you can test out those theories.
ASIA
Crown Resorts' Sri Lanka casino plans appear doomed after a change in the country's leadership; Melco Crown Entertainment delisted from the Hong Kong stock exchange; Chinese authorities broke up a cross-border online gambling ring in Shandong; Macau could lose up to 50 VIP gaming rooms in 2015 and the city's revenue slump took $7b out of the pockets of Galaxy Entertainment's chairman; PokerStars signed their first pros from India and Japan; Paradise Co Ltd reported revenue rising in 2014; Nepal lawmakers pressured their tourism ministry to reopen shuttered casinos and Las Vegas Sands' alleged efforts to dig up dirt on Macau officials will get an airing in former Sands China CEO Steve Jacobs' wrongful termination suit.