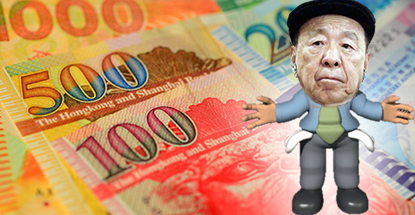 Sheldon Adelson isn't the only casino tycoon to see his fortunes fall in 2014 thanks to the ongoing revenue slump in Macau, the world's top gaming hub. Forbes has just released the Hong Kong version of its annual rich list and the four casino operators who made the grade each saw their personal fortune dip in 2014. None surpassed the $10.8b decline experienced by the Las Vegas Sands chairman, but you know, a billion here, a billion there… pretty soon you're talking about real money.
Galaxy Entertainment Group chairman Lui Che Woo (pictured) led the casino decliners by losing a hefty $7b last year, leaving him with a mere $13.4b with which to somehow bravely soldier on. Lui slipped three places from last year's list to rank fifth on the 2014 chart.
Pansy Ho, co-chair of MGM China and daughter of Macau's old godfather Stanley Ho, slipped from ninth place last year to #12 this year with a $5b net worth. Stanley's son Lawrence, who controls two-thirds of the Melco Crown Entertainment joint venture, slipped from #12 to #31 with $2b, down 41% from the year before.
Angela Leong, Stanley's fourth 'wife' and a major shareholder in Stanley's original casino operation SJM Holdings, slipped from #19 to #36 with a net worth of $1.8b. Another of Stanley Ho's wives, Ina Chan, fell off the list entirely this year. Chan holds a 13% stake in casino operator Macau Legend as well as a stake in SJM. She was #46 on the 2013 list with $1.1b but her wealth has since been cut by half.
Both Lui's Galaxy and Lawrence Ho's Melco Crown have new projects opening in Macau during 2015, which they hope will backstop their falling fortunes and possibly even jumpstart a little growth. But for the moment, hope comes at a premium. Wells Fargo just issued a note saying it expect Macau gaming revenue to fall between 16% and 19% in January, based on current trends. Happy new year!