David Rebuck, Director, New Jersey Division of Gaming Enforcement, has posted a letter on their official website reviewing the first 12-months of regulated iGaming in New Jersey and looking forward to the future.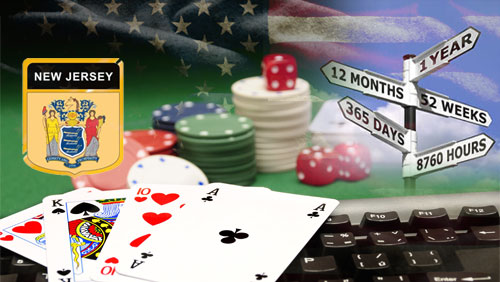 The New Jersey iGaming experiment is one year old, and whilst it might not have earned the $1 billion in revenue Gov. Chris Christie predicted it would, it's still been a very successful year according to the Director of the New Jersey Division of Gaming Enforcement (DGE), David Rebuck.
The vote of confidence arrives in a 10-page letter posted on the DGE website entitled: New Jersey Internet Gaming One Year Anniversary – Achievements to Date and Goals for the Future – and it makes for interesting reading.
Christie signed the New Jersey iGaming legislation back in 26 Feb 2013, and the DGE took just nine months to do the necessary in time for a live launch on 25 Nov 2013. One year on and Rebuck reports 'no major infractions or meltdowns or any systematic regulatory failures that would make anyone doubt the integrity of operations.'
Sheldon Adelson and the Coalition should take note.
There has been a 67% increase in available games since the launch of soft play. As of 30 Nov 2014 online operators had 423 authorized real money games available for punters, and the vast majority of these games are online casino types, which according to Rebuck, makes New Jersey an attractive proposition for iGaming developers.
The year has seen two online poker operations slips from view. Taj Mahal platform provider Ultimate Gaming shut up shop in Sep 14, and Betfair transferred its operation from Trump Plaza to Golden Nugget before deciding to completely withdraw their online poker offering, leaving only online casino games in operation.
At the other end of the scale there was only one newcomer to the table, with Pala Interactive partnering with the Borgata platform on 22 Nov 2014 – an interesting development for Phil Ivey who is an ambassador for the Californian tribe, and is embroiled in a multi-million dollar lawsuit with Borgata over his use of edge sorting tactics whilst playing at their Baccarat tables.
Real money accounts have grown by as much as 300%, with over half a million accounts in situ at the end of Nov 2014, and according to a University of Las Vegas Center for Gaming Research study, New Jersey's slice of that particular pie accounts for over 90% of all legal U.S. online gaming revenue.
Lessons Learned
On the lessons learned front, Rebuck says the biggest surprise was the lack of operational readiness, from the online operators, once they were able to implement their online gambling platforms; there is still work to do on improving geolocation matters (although a 98% success rate is not to be sniffed at), and they are currently in talks with the New Jersey Department of Banking and Insurance, and the U.S. Office of the Controller of the Currency (OCC), to address the difficulties related to payment processing. 73% of Visa transactions and 44% of MasterCard transactions are getting through, and Rebuck and his team want to see these numbers climbing north.
Looking Forward
The most interesting part of the letter was the future forecast. Rebuck states that: 'an important area for the future of Internet gaming is Interstate/International compacts,' and cites discussions with Nevada and the United Kingdom as very promising possibilities for the future of online poker liquidity in particular.  He ends the letter with a tease, citing the potential to include online lotteries as the technology develops.
Then letter can be read in full right here.
Comments