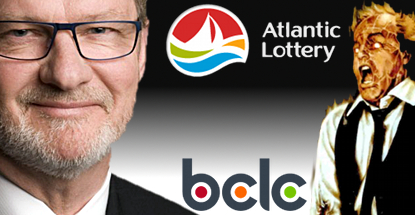 Former British Columbia Lottery Corporation (BCLC) CEO Michael Graydon (pictured, on the left) has repaid his controversial severance package. In February, Graydon abruptly resigned his command of the provincial betting monopoly to take a job with a local offshoot of Paragon Gaming, which is planning a mega-casino in downtown Vancouver. Public anger mounted as word spread of Graydon's golden handshake, which led the provincial government to determine the payments were a conflict of interest and Graydon was ordered to repay two months' salary he wasn't owed.
On Thursday, BCLC announced that it had received payment of a little over $55k – the full amount it was seeking – to cover salary Graydon had no right to claim. Graydon gets to keep $31k in vacation pay to which he was entitled, so it looks like there will be a Christmas at the Graydon household this year, albeit on a more modest scale. But the plan to hang precious stones from the tree in lieu of ornaments? Maybe next year…
THE ALC WANTS TO TALK
On Canada's other coast, it sounds like the top brass at the Atlantic Lottery Corporation (ALC) are looking to update their own resumés (you know, just in case). The ALC, whose monopoly extends across all four Maritime provinces, wants to do professional consulting outside the region. So far, Prince Edward Island (PEI) and Nova Scotia have both given the idea their thumbs-up.
The ALC is clearly in an expansionist mood. A month ago, it announced it should be expanding into online gambling like its counterparts in BC, Quebec, Manitoba and (soon) Ontario. Annual profit rose slightly last year for the first time in half a decade – must have been those new Oscar props – and the ALC clearly doesn't intend to lose momentum.
Speaking to PEI's The Guardian, ALC senior public affairs counsel Craig Ennis said the crown corporation fields requests for consultation all the time and accepting these offers won't come with any upfront costs, as the execs' brains are already stuffed to the brim with gaming knowhow. Seriously, if they don't find a way to release some of this knowledge, their heads could explode like that guy on Scanners.
NEVER ON SUNDAY NO MORE
The PEI Lotteries Commission has repealed a ban on operating video lottery terminals (VLTs) on Sundays. Until last month, if you wanted to play VLTs on Sunday, you had to go to Red Shores casinos in either Charlottetown or Summerside. Players can now partake in any VLT-licensed establishment on any given Sunday (St. Given's Day), bringing PEI into line with practices in the other three ALC member provinces. But you're still out of luck on Christmas Day, Good Friday and Easter Sunday, so clearly PEI atheists continue to be regarded as second-class citizens.
MY-PLAY OR THE HIGHWAY
In Nova Scotia, the government has cancelled its My-Play program, which sought to monitor VLT player activity to mitigate potential problem gambling behavior. The My-Play system was implemented in April 2012 and required all VLT users to first insert one of two types of cards: a permanent 'full-enrollment' card that collected data on their gaming activity or a 'light-enrollment' disposable card that simply allowed one session of play.
Whether My-Play achieved its aim of controlling gamblers is hard to quantify. VLT revenue was $106m last year, down 23% from just two years ago, but anti-smoking laws in clubs have helped drive down VLT use. Meanwhile, the program cost the province $19.5m to date with a further $1m due next week. On Wednesday, the government said not enough people had opted for the full-enrollment cards and thus it wasn't about to throw good taxpayer funds down the drain. For a change.
Comments