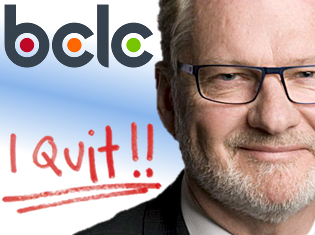 Has someone declared a fatwa on the CEOs of Canada's provincial lottery corporations? A little over a week after Rod Philips stepped down from the helm of the Ontario Lottery and Gaming Corporation, his British Columbia counterpart has made a similar exit from the stage. On Thursday, the BC Lottery Corporation (BCLC) announced that CEO Michael Graydon (pictured) was leaving the fold after nearly six years on the job. Jim Lightbody, BCLC's VP of casino and community gaming, has already assumed the role of interim CEO until the board of directors identifies a permanent replacement.
Like Philips, Graydon reportedly left to take a job in the private sector, but perhaps frustration was a bigger motivator in Graydon's exit. About 18 months ago, Graydon had vowed that the Canadian Poker Network – the shared online poker liquidity of Canada's provincial gambling monopolies – would be "very competitive with PokerStars." Graydon's prediction has come true, but only in the sense that the two poker platforms are in the same business and are thus technically in competition with each other. In terms of rivaling PokerStars in liquidity, er, no.
Graydon was also frustrated by BCLC's inability to offer sports betting fans what they wanted. Graydon has publicly chastised internationally licensed online sportsbooks for daring to offer Canadians the single-game sports betting options they crave, rather than the limited parlay wagers that BCLC and its ilk provide. Along with his counterparts in other provinces, Graydon also called out the Canadian Football League for entering into marketing deals with these international firms. Is it really too much to hope that Graydon's private sector role will turn out to be a Canadian marketing rep position with the UK's Bet365?
The reason BCLC was never able to offer single-game sports bets is because the Canadian government has yet to pass the C-290 legislation that would have amended Canada's criminal code to permit such activity. The private member's bill passed the House of Commons two years ago with all-party support but has languished in the Senate ever since. This week saw the usual crowd of C-290 supporters attempt to leverage the media spotlight on the Super Bowl and all its assorted wagering hype to further their cause.
Bill Rutsey, CEO of the Canadian Gaming Association, penned an op-ed lamenting the "handful of unelected senators in Ottawa" (note: not the NHL franchise) who want to "step back in time" and who apparently have a sentimental attachment to prohibition. The chambers of commerce in Niagara Falls and Windsor, Ontario – the home of MP Joe Comartin, C-290's author as well as a Caesars-managed casino that desperately wants to open a sportsbook – also issued the same call they've been issuing for two years now, namely, get a bloody move on. Sadly, it's a safe bet that these stakeholders will be reissuing these same statements in a few more months when the NHL playoffs commence.