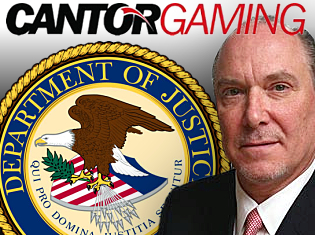 Cantor Gaming boss Lee Amaitis (pictured) may be caught up in the investigation that led to the company's former VP of risk Mike Colbert pleading guilty last month to accepting illegal wagers. Colbert was one of 25 individuals indicted last October in an operation targeting Curaçao-licensed online sportsbook Pinnacle Sports. Originally charged with conspiracy, money laundering and enterprise corruption, Colbert agreed to plead guilty to a single felony conspiracy charge late last month, according to documents unsealed on Wednesday and viewed by the Las Vegas Review-Journal. Colbert will be sentenced Dec. 9.
On Tuesday, word surfaced that the charges filed against Colbert by the Queens County, New York district attorney had been dismissed and his case referred to federal prosecutors in the Eastern District of New York, who'd filed their own charges against Colbert in August. In pleading guilty to conspiracy, Colbert admitted knowing 'runners' were placing wagers with Nevada-based Cantor sportsbooks on behalf of a Queens-based illegal betting operation known as the 'Jersey Boys,' whose leader is known to law enforcement, according to US Attorney Loretta Lynch.
Nevada law prohibits the use of such paid bettors, also known as 'messenger' bettors. Federal prosecutors apparently had Colbert dead to rights after claiming he was overheard telling an underling to ask the Jersey Boys' leader if the runner could withdraw money from a Cantor account that was listed under the runner's name but which actually belonged to the Boys' leader. Colbert was also alleged to have recruited a runner to place wagers for the Boys.
Colbert claimed his motivation for accepting the runner bets was his desire to offset large wagers placed with Cantor books by high-stakes bettors. Cantor was recently singled out for praise by mega-bettor Billy Walters, who said they were alone among Nevada sportsbooks in not being afraid to take larger action. (Walters had even higher praise for international online sportsbooks, some of which he credited with being willing to accept more action than all the Vegas books combined.)
Colbert is said to be cooperating with federal prosecutors in their ongoing investigation, which the Wall Street Journal's Alexandra Berzon reported might include Amaitis and other top Cantor execs. A former bond trader, Amaitis has a colorful past, having been arrested in 1986 for his involvement in what the New York Times called "a multimillion-dollar drug ring that was peddling cocaine at Wall Street firms." Amaitis managed to plead the charge down to possession, for which he received a $5k fine and a year's probation.
A person with knowledge of the situation told Berzon that Cantor wasn't aware of any investigation into anyone other than Colbert. Nevada gaming regulators are currently conducting their own investigation into how far up the Cantor Gaming ladder Colbert's activities may have reached. That investigation is supposedly nearing its completion.