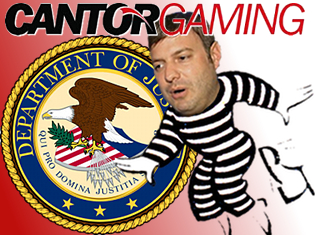 [UPDATE: The dismissed charges were those filed by the Queens County, New York district attorney. In exchange for dropping those charges, Colbert agreed to plead guilty to a single conspiracy charge in federal court.]
New York authorities have dropped illegal sports betting charges filed last October against former Cantor Gaming exec Mike Colbert (pictured). Cantor's former VP of risk management was among 25 individuals charged following an investigation of illegal sports betting associated with Curaçao-based online sportsbook Pinnacle Sports. Despite pleading not guilty to charges of conspiracy, money laundering and enterprise corruption, Colbert was fired by Cantor shortly after the indictments dropped, although he has since resurfaced as a guest host on ESPN Radio 1100's First Preview show.
BettingTalk's David Purdum reported that the charges against Colbert were dismissed on Sept. 25. A New York court official confirmed the dismissal, but the court records have been sealed, offering no suggestion as to what type of deal had been struck between the New York prosecutors and Colbert. Meanwhile, the Nevada Gaming Control Board's investigation into Colbert's activities at Cantor remains ongoing.
The Colbert update follows last week's sentencing of a figure related to a separate DOJ action in April 2013 that resulted in the closure of Panama-licensed online sportsbook Legends Sports. In July, New York state resident Craig Hayner, 44, pleaded guilty to first-degree gambling promotion for his role in the operation, which included a prison-betting scheme run by two Albany County corrections officers. Hayner was spared jail time, but was slapped with a $250k fine and a one-year conditional discharge. Three other New York state residents – James Cerniglia, Joseph Carucci and Christopher Socola – have also pled guilty and received fines but no jail time. Former Legends CEO Bartice King was released on $1m bail in August pending a February 2015 trial date.
Of course, none of these cases would exist were it not for the puritanical laws prohibiting sports betting everywhere in the United States bar Nevada. At last week's Global Gaming Expo (G2E) in Las Vegas, Station Casinos VP of race and sports book operations Art Manteris spoke for many observers by declaring that things "didn't have to be that way." Manteris noted the irony in the fact that the federal PASPA sports betting ban was directly responsible for the rise of international online sportsbooks taking US action.
Princeton Public Affairs Group partner Bill Pascrell, who helped lead New Jersey's campaign to enact its own Nevada-style legal sports betting system, predicted that the state would ultimately triumph in its legal fight to have PASPA declared unconstitutional. Pascrell said legal sports betting was "not a question of if, but when," although it must be tough for state governments to figure out whether they could earn more money from taxing legal sports bets or from asset forfeitures in busts of illegal sports betting operations. Decisions, decisions…
Comments