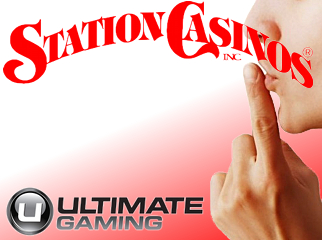 Station Casinos LLC, which operates 14 wholly-owned 'locals' gaming establishments in the Las Vegas area and holds 50% stakes in four other properties in Nevada and Michigan, posted its best Q2 results in five years on Wednesday. Station revenue rose 1.4% to $316.6m, while profits rose 11.4% to $7.3m from the same period a year ago. The company, which emerged from bankruptcy in 2011, carried long-term debt of $2.16b as of June 30, while cash and equivalents totaled $123.2m.
Station's Q2 revenues undoubtedly benefited from the April 30 launch of Ultimate Poker, the first Nevada-licensed online poker operation. Ultimate Poker is a division of Ultimate Gaming, which is itself an offshoot of Fertitta Interactive, the online gambling outfit in which Station holds a 57.3% interest. Station neglected to spell out Ultimate Poker's precise revenue figures, but a look at the overall earnings numbers suggests the online division is still finding its way.
Excluding Fertitta Interactive, Station's adjusted earnings rose 5.7% to $97.7m in Q2, the company's ninth consecutive quarter of earnings growth. Including Fertitta's results, earnings dipped $1.6m to $96.1m, suggesting that while Ultimate recently celebrated the dealing of its 10 millionth hand, the financial benefits of the online poker launch have yet to be realized. Meanwhile, Station execs revealed that Ultimate Gaming has submitted all its requisite paperwork to participate in New Jersey's online gambling market. Ultimate Gaming inked an online partnership with Atlantic City's Trump Taj Mahal casino last month, and MGM Resorts CEO Jim Murren optimistically suggested a Nevada-New Jersey interstate compact could be a reality as early as 2014, which could go a long way into turning Ultimate's current earnings frown upside down.
Comments