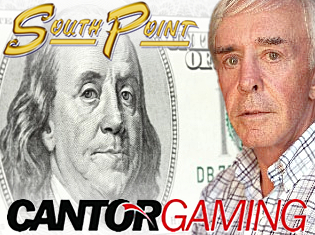 With just hours to go until the kickoff of a new National Football League season, South Point Hotel Casino & Spa have officially launched their Nevada-only mobile sports betting app. Two weeks ago, South Point's new director of public relations Jimmy Vaccaro said his employers didn't want to be "the only book in town without the mobile app," and South Point has now boldly gone where Cantor Gaming, William Hill US and Station Casinos have already gone before.
South Point's app, which is available for both iOS and Android phones and tablets, went live on Tuesday and offers all forms of sports wagers barring parlay cards or pari-mutuel racing. Customers must make a minimum $100 deposit at South Point's sportsbook or four other locations: the Cannery, Eastside Cannery and Rampart in Las Vegas and the Virgin River casino in Mesquite. A mobile FAQ is available at nvsportsbooks.com. Still no word on when South Point's real-money online poker site RealGaming.com will start dealing its first hands, though.
BILLY WALTERS SAYS ONLINE SPORTSBOOKS ROCK
Technological leaps and bounds aside, sports betting legend Billy Walters (pictured above, next to his friend Ben) says betting in Vegas "is at an all-time, all-time low. It's a joke. A sad joke." Walters told BettingTalk.com's David Purdum that Vegas' wagering decline is due in part to the shrinkage in the number of companies controlling the town's sportsbooks, from around 40 in the 1980's to one-quarter of that figure today.
Worse, the modern day operators are plum skittish when it comes to taking anything resembling what Walters would consider a proper wager, and the only reason they get away with it is "because they have a monopoly." Walters said most Vegas books will only accept 20% of the amount he would prefer to wager, and when it comes to college football games, "you can bet more money on them with one sportsbook outside of Nevada than you can at all of the sportsbooks in Nevada combined." Walters questions why anyone outside Vegas would want to physically travel to Nevada to place a sports wager when they can find better lines with international online sportsbooks from the comfort of their living room.
The notion that Walters bets most of his money with international online sportsbooks is hardly a state secret (just check out the comment at the bottom of this article). But while Walters acknowledged that there were a few horror stories about shady operators leaving customers high and dry, Walters' own experience had been that with "the majority of the major guys offshore, I don't know of anyone they ever stiffed."
When Walters does wager large in Nevada, he tends to do so at sportsbooks operated by Cantor Gaming, who from the minute they arrived in Nevada, built a reputation for not turning away sharp action. For what it's worth, Cantor found itself linked to international online sportsbook Pinnacle last October when former Cantor VP Mike Colbert was accused of helping sports bettors place wagers at the highly regarded Pinnacle.
Comments