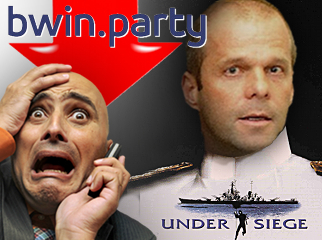 Earlier this week, the Bulgarian State Gambling Commission reissued its online gambling blacklist, and the name of PartyPoker.com was no longer present on this roster of online gambling blackguards. Bulgarian officials offered no justification for PartyPoker's reprieve, but whatever the reason, investors in Party's parent company hopefully enjoyed this small victory, as it's really the only piece of good news to come out of Bwin.party digital entertainment HQ this week.
Bwin.party turned in its H1 earnings report on Friday, and it makes for grim reading. Revenue fell 16% to €342.5m while earnings fell 34% to €60.7m, resulting in a net loss after tax of €11.6m. The slide has continued into the first eight weeks of Q3, with average daily net revenue down 8% from Q2 and down 21% from the same period in 2012.
Bwin.party also warned that full year revenue was expected to fall between 14% and 17% from the previous year's tally, with earnings expected to be down 2%. That latter figure is excluding revenue and costs associated with Bwin.party's expected launch of US operations in New Jersey, although given that this market won't launch until Nov. 23 at the earliest, investors should expect far more costs than revenue from this division in 2013.
The dire figures in Bwin.party's report look even worse in comparison with strong showings earlier in the week from Paddy Power, 888 Holdings and Playtech. Predictably, Friday's news prompted irate investors to drag Bwin.party stock into an alley and beat it bloody, closing out the day's trading down nearly 13% to 110p, well off its year-to-date peak of 156p on March 11 and not far off its early January low of 101p.
DOWN, BOY!
All of Bwin.party's gaming verticals were negative in H1, with poker posting the most significant revenue decline, down 35% to €62.3m thanks to a 38% decline in daily average players and a 54% decline in new sign-ups. Despite sports betting hold improving from 7.2% to 9.2%, sports revenue dipped 7% to €118.3m, dragged down by the imposition of that 5% turnover tax in Germany, the country that provided 24% of Bwin.party's H1 revenue.
Yield per casino player rose 9% in H1, but daily average players fell 27% and stakes fell 15%, which pushed casino revenue down 21% to €110.8m. Bingo revenue slipped 14% to €27.2m thanks to "aggressive competitor promotions" in Bwin's top bingo markets, the UK and Italy. Bwin's only positive vertical was its' "other" category, which encompasses the World Poker Tour, the Kalixa payment services division, the Win Interactive social gaming offshoot, Spanish retail outlets and B2B operations. "Other" revenue was up 67% to €23.9m.
DISRUPTIVE HELP IS ON THE WAY
CEO Norbert Teufelberger (pictured above in white, next to the investor frantically trying to place a 'sell' order) said the company's ongoing restructuring from 'volume to value' via an emphasis on regulated markets meant H1 "was always going to be a challenge." Teufelberger was frank about having been leapfrogged by competitors thanks to Bwin.party's lack of feature innovation, absence of a competitive mobile offering and "no social hooks."
Teufelberger said the oft-delayed rollout of new PartyPoker software – 'Phase 1' is now expected to appear some time in September – would "revitalize" the poker vertical's flagging fortunes. Teufelberger told analysts the focus was on making the new software "relevant and disruptive, so that it will not only challenge but will change current perceptions of both our brand and also of online poker generally. We are going to put the fun back into poker." (The jury's out on whether poker players find PartyPoker's new withdrawal fees more disruptive than fun.)
Besides poker, Bwin.party's planning to launch a new PartyBingo product before the year is done, along with a new mobile sportsbook interface, a social sports betting app courtesy of Bwin.party's deal with social gamers Nordeus, as well as the launch of Premium.com, "a new service focused on high value customers."
Give Teufelberger credit for backing up his public boosterism with personal action. In May, Teufelberger purchased 204k shares in Bwin.party at a cost of 143p per share. That £292k deal could have been done for £224k on Friday, but hey, live and learn.