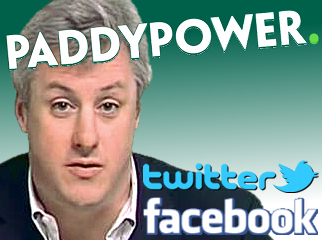 Irish gambling operator Paddy Power saw turnover, revenue and profits all rise sharply in H1 2013, thanks to continued strong performances by its online and mobile operations. In constant currency terms, overall revenue rose 22% to €379.8m, while profit rose 11% to €75.4m. Despite the good news, Paddy shares fell nearly 3% on Wednesday to close at 59.96p, perhaps because CEO Patrick Kennedy (pictured right) had the audacity to reveal that Q3 had started off with "very poor" sports results. The company is sitting on net cash of €214m as of June 30.
Being that this is Paddy Power, their official earnings report contains phrases one wouldn't expect to find in, say, Ladbrokes' filings. Paddy describe their highly visible Cheltenham branding exercises as having "went down worse with the stewards than a lunch date with [Nigella Lawson-choker] Charles Saatchi" while the anti-climactic end of the 2012-13 Premier League season is described as having "made the Antiques Roadshow look dramatic." The sports betting vertical experienced "more highs and lows than Lindsay Lohan on a week-long bender" but the increase in gross win percentage "left punters feeling sorer than a ball-boy at a Chelsea match."
This irreverent approach is credited with having grown Paddy's social media audience by 32% over the past six months to 1.7m fans and followers, "more than double the level of the nearest industry competitor." Kennedy described Paddy's social media presence as "not just another channel to hard sell a message." Selling via Google is "like selling in a department store, but selling on Facebook is like going to sell at a drinks party. So you need your fans to be much more engaged, and I think that's a key point of distinction for Paddy Power."
Kennedy says half of its UK social media acolytes are also Paddy Power Online customers, which bodes well for Paddy Power In-Play, the first real-money sports betting product on Facebook that makes its beta debut this week. Kennedy said that Paddy customers love Paddy "disproportionately," and that "loyalists" who visit Paddy betting shops are much more likely to choose Paddy Power Online than retail customers of other betting firms would choose to limit themselves to that brand's online operation.
ONLINE AND MOBILE POWER PADDY
Online revenue was up 29% to €243m thanks to a 23% gain in active customers to 1.4m. Online sportsbook revenue rose 32% to €181.9m thanks to hold rising to 9.7% from 8.4%. Non-sports online gambling rose 19% to €61.4m, despite a falloff in the poker vertical. Defying a 33% rise in online operating costs, online profits rose 17% to €57.5m, representing 76% of group profit. Telephone wagering turnover fell 7%, but revenue and profits rose 9% to €12.1m and €1.5m respectively.
Mobile revenue more than doubled to €104m, accounting for 43% of Paddy's online revenue. Mobile turnover rose 50% to €535m, representing 51% of sportsbook handle. Nearly two-thirds (64%) of Paddy's sportsbook customers reported placing a mobile wager in the month of June, while 36% of casino customers could make the same claim. Kennedy predicted that mobile would account for 90% of industry growth over the next six years.
DON'T FORGET RETAIL
While the big numbers were on the digital side, Paddy's UK retail operation saw turnover rise 20% to €302m, pushing revenue up 23% to €61.6m and profits up 4% to €7.8m despite the new gaming machine tax. OTC sports betting revenue rose 33% to €32.5m thanks to a 12.1% hold, while fixed-odds betting terminal (FOBT) revenue rose 14% to €29.1m. Paddy opened 19 new betting shops during H1, bringing its total estate to 228 units, and the company expects to open 40 new shops annually "in the current environment."
Irish retail turnover rose 4% to €493m, boosting revenue by 2% to €58m but unfavorable sports results – particularly due to the streak of Irish horses winning at Cheltenham – dragged profit down 17% to €7.6m. Paddy added seven Irish shops in H1, giving it a 38% share of the Irish retail market.
AUSTRALIA, ITALY AND AMERICA
Paddy's Australian arm Sportsbet reported online turnover up 26% to €935m, revenue up 33% to €86.5m and profit up 30% to €16.5m. Mobile turnover more than doubled to account for 35% of total stakes, and 65% of Sportsbet customers placed a mobile wager in H1. The roster of active customers grew 35% to 241k while new active customers grew 14%.
Paddy's Italian-facing operation contributed 3% of group revenue but still recorded an operating loss of €9.6m in H1 and a full-year loss of €15m to €16m is expected. That's about two-thirds of the previous year's loss, and Kennedy predicted a breakeven business in 2014. After closing out 2012 with a 5% share of the Italian online sports betting market, Paddy's share rose to 9% between April and June. Paddy garnered 40% of its Italian sportsbook turnover via mobile, giving it an estimated 20% share of Italy's overall mobile sports betting.
As for Paddy's US ambitions, Kennedy didn't have any update on the company's New Jersey license bid and said there were "still too many unknowns for us to be very specific about which way the ball will bounce."