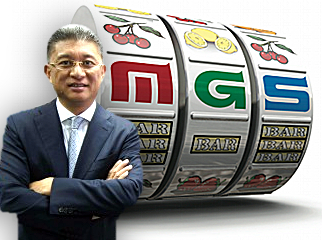 Whether you call them junket operators, VIP promoters or VIP gaming room operators, you can expect to find scads of them at the new Macao Gaming Show (MGS), which is set to hold its inaugural event this November 14-16 at CotaiExpo. The conference (full details available here) is the brainchild of LT Game Ltd. chairman Jay Chun (pictured right), who also chairs the Macau Gaming Equipment Manufacturers Association.
In January, Chun announced his plans to hold a 'made in Asia' gaming conference, stressing that it wasn't intended as a challenge to the popular G2E Asia confab, but would instead cover aspects of Macau's gaming industry that G2E Asia overlooked. This 'Everything Gaming!' approach includes casino souvenirs, furniture, lighting, entertainers and food and beverage supplies. But the biggest additional aspect of Macau's thriving market MGS will attempt to bring into focus will be its junket industry.
Chun told Macau Business Daily that G2E Asia was "a great show" but its focus was on electronic gaming machines (EGM), whereas "junkets contribute 70% of [Macau's] market. They should be able to have a say." Chun said his conference would help "connect people" with the junket industry, which he claimed was "different from the old days." Chun said the increasingly corporate junket business was keen to dispel the "biggest myth" about its alleged ties to triads.
Unlike most Asian gaming conferences, in which the junket business is usually discussed without a single junket representative on hand, Chun's conference is being co-organized with two trade bodies – General Association of Administrators & Promoters for Macau Gaming Industry and the Associaçäo de Mediadores de Jogos e Entretenimento de Macau – which between them represent 85% of Macau's registered VIP gaming room promoters. Chun said MGS would facilitate meetings between junket operators and gaming regulators from international jurisdictions to show that Macau is not only "on a level with international standards" but "exceeds the standards in other places."
Chun plans to connect junket operators with international casino operators "looking for junkets from this market to go to their casinos." Chun also expects to attract overseas sub-junkets whose clients may wish to play in Macau but lack the necessary relationships. "The show is a way for the two sides to connect."
WILL RIVAL SHOW ATTRACT RIVALS?
Of course, MGS will also address casino gaming devices, but Chun believes that the increasingly rapid EGM product cycle means there's plenty of scope for two conferences to handle. Chun says G2E Asia exhibitors have been invited to participate in MGS, but Chun says he's yet to receive an RSVP from the US-based Association of Gaming Equipment Manufacturers (AGEM).
LT Game made serious waves (and enemies) at the 2012 G2E Asia over its live dealer baccarat patent dispute with rival operators including SHFL Entertainment, an issue that was only recently decided in SHFL's favor in a Macau court (although LT Game is appealing that ruling). LT Game's aggressive defense of its perceived patent rights prompted rival manufacturer Alfastreet to skip the 2013 G2E Asia, although the company has since stated that it will attend the 2014 event. It seems doubtful Alfastreet will make the same commitment re Chun's new show.