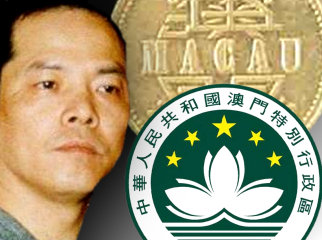 Macau's gaming regulations are coming under increased scrutiny following news of the imminent return of former triad leader 'Broken Tooth' Koi to the special administrative region's VIP casino business. Having served over 14 years of a 15-year sentence for loansharking, criminal association and illegal gambling, former 14k triad leader Wan Kuok-koi was released from Macau's Coloane Prison in December. Wan almost immediately declared his intention to carve out a new niche in Macau's junket business, following that up a couple weeks ago with claims to be preparing to sign on with a "new casino hall" set to open in August. Wan said he wouldn't manage the joint and promised to keep a low profile, saying he would "just let people know I have shares in it."
The notion that someone with Wan's 'colorful' history could rejoin the casino business at will has many wondering what constraints there are on junket operators, and the answer depends on who you ask. As of March, Macau had some 235 licensed 'junket operators' and the Gaming Inspection and Coordination Bureau (DICJ) says anyone holding shares in a junket firm equal to or exceeding 5% was subject to the same suitability checks as a regular junket operator.
The problem is, the role of 'junket operator' is not actually defined under local gaming regulations. Instead, the regulations forbid the issuing of credit by third parties other than the "authorized casino operator or authorized gaming promoter." Meanwhile, Macau's casino business has an abundance of 'junket operators' and 'VIP promoters,' classifications that some believe occupy a legal grey zone.
A local gaming attorney told Macau Business Daily that the verbal gymnastics began as a way for regulators to differentiate between gaming promoters, service providers and other joint venture partners holding shares in a gaming promoter. But other individuals sensed a loophole, leading to the possibility of Broken Tooth picking up where he left off.
CHINA WARNS OFF FOREIGN INTERVENTIONISTS
The gathering kerfuffle over Wan's return will likely prove catnip to US legislators eager for new ways to paint Macau as a den of iniquity, a modern day Tortuga where pirates/terrorists come to launder their plunder. But unspecified "foreign institutions' representatives" have been put on notice by a Chinese official intent on keeping Macau's local elections a local concern.
A couple weeks ago, Ms. Zhang Jinfeng, China's Deputy Commissioner of the Ministry of Foreign Affairs, told some Macau secondary school students that an unidentified "external power" had engaged in "interference and intervention" ahead of September's elections for Macau's Legislative Assembly. Zhang said these interlopers had "come to Macau to find faults with and make irresponsible comments about the special administrative region's election affairs, in an attempt to influence them."
A couple weeks prior to that speech, Zhang's Ministry had criticized Stephen Young, US Consulate General for Hong Kong and Macau, for his reaction to Hong Kong's failure to arrest whistleblower Edward Snowden before his skedaddle to a Moscow airport. A "frankly disappointed" Young had said America's confidence in Hong Kong had been "shaken" due to the "lost of trust" in the city's institutions. Local officials retorted that the US Department of Justice had neither an understanding of nor respect for Hong Kong's legal system "and the spirit of rule of law." They also noted Young's deathly silence on Snowden's allegations that the US was routinely snooping Hong Kong's computer networks. Odd, that.