Gaming activity in Singapore appears to have stalled somewhat. In a financial note issued this past Friday, the Sanford C. Bernstein brokerage expects gross gaming revenue (GGR) for all of 2018 in Singapore to recede slightly from last year, falling 2.4% to just $4.53 billion.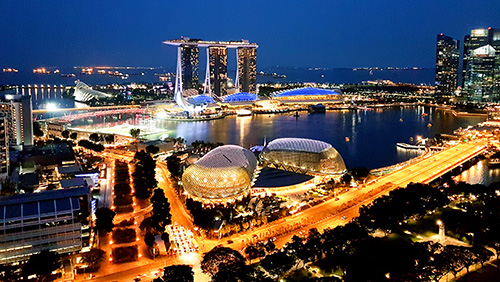 Bernstein analysts Vitaly Umansky, Eunice Lee and Kelsey Zhu expect the combined VIP revenue this year for both the Las Vegas Sands-owned Marina Bay Sands and Genting Singapore's Resorts World Sentosa would only reach $1.68 billion. This is almost $2 million less than the $1.811 billion the two companies reported for 2017. They added that mass-table-market GGR would be $1.687 billion, a decrease of 3.8% year-on-year. The only increase is expected in the slot machine segment, which could jump 8.9% to $1.142 billion.
The analysts added, "Singapore is a stable growth market with significant cash flow generation… The anti-corruption campaign in China, however, represented significant headwinds to the market in 2015 and 2016." The statements refer to the fact that Singapore's best year, in terms of GGR, was 2014 and that there has been a constant decline in GGR since. In 2014, the GGR peaked at $5.55 billion.
The analysts further offered, "We estimate that over 50 percent of VIP is comprised of Chinese players. Hence, in 2015, the relative softness of the Chinese economy, along with the anti-corruption campaign, exerted influence on the VIP market in Singapore (rolling chip volume down 23 percent year-on-year and VIP GGR down 31 percent year-on-year)."
The details on Singapore's activity were included as part of a larger report on Las Vegas Sands (LVS). LVS also controls Sands China Ltd., a casino operator in Macau, and is in the running for an integrated resort license in Japan. Bernstein asserts that LVS has "great Asia exposure" and that 58% of the company's profits are derived from Sands China and 32% from Marina Bay Sands.
The analysts stated about LVS, "From 2017–2022 (estimate), we forecast Las Vegas Sands' revenues to grow at approximately 6 percent. We expect margins to improve, from 39 percent in 2017 to 41 percent in 2022 (estimate) on operating leverage and better business mix. Key drivers include continued long-term expansion of the mass market in Macau (albeit with near term slowdown), continued margin improvement in Singapore and improvement in mid-week average daily [hotel] rates in Las Vegas."