The list of corporate executives wanting to thank U.S. President Donald Trump for approving a one-time tax benefit has grown longer.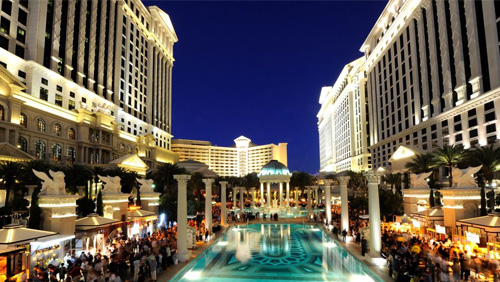 Nasdaq-listed casino operator Caesars Entertainment Corporation (CEC) trimmed its net loss in 2017, thanks to a $2 billion boon linked to the recent changes in the U.S. tax code.
In a regulatory filing, Caesars announced that its net revenue jumped 25.1 percent to $4.85 billion in 2017 from $3.9 billion in 2016, due to CEC once again including contributions from Caesars Entertainment Operating Co. (CEOC) properties. Same-store net revenues remained flat at $8.12 billion, according to the company.
The casino operator would've registered a loss once again this year due to the $2.03 billion restructuring expenses related to CEOC's emergence from bankruptcy protection and a $232 million loss on debt extinguishment, if not for Trump's tax benefit.
Compared to its 2016 operations, CEC President and CEO Mark Fissora pointed out that the company posted growth across all segments last year.
"Same-store gaming revenues increased company-wide for the full year despite unfavorable hold of approximately $80 million. Non-gaming revenues and Las Vegas RevPAR increased for the full year, driven by room renovations and overall strength of our hospitality assets," Fissora said in a statement.
For the fourth quarter, Caesars reaped revenue of $1.96 billion and adjusted earnings before interest, taxation, depreciation and amortization (EBITDA) of $505 million, which Fissora said was within their expectation.
Caesars admitted that the mass shooting that occurred in Las Vegas last October hit the company's EBITDA by approximately $25 million in the fourth quarter.
Looking ahead, Fissora said during Wednesday's earnings call that the company is committed to reinvigorating its hospitality and loyalty marketing programs.
Caesars announced plans to drive growth in its Total Rewards (TR) membership and greater adoption of its TR app and TR Visa cards in 2018. TR membership rose 3.4 percent to 55 million members last year.
The company, meanwhile, is still mulling on whether to merge CEOC with its Caesars Resort Collection unit this year.
"Again, there are a lot of priorities within the company from a growth perspective and from a capital structure perspective. And that's definitely one that we'll continue to evaluate," CEC Chief Finance Officer Eric Hession said."I wouldn't want to put a timeline on it at this point, but it's certainly something that we have on our list as a potential opportunity."
Comments