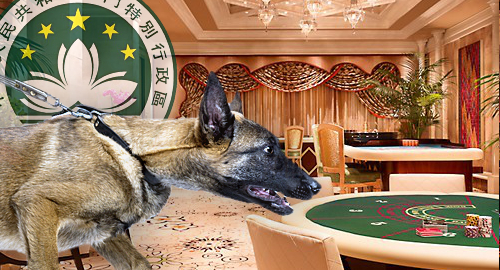 Macau authorities plan to keep closer tabs on junket operators and take other steps to make the local casino industry more efficient and responsible.
On Tuesday, Macau Chief Executive Fernando Chui gave his annual policy address, laying out the government's priorities for the special administrative region in 2018. Among these priorities are plans to "review and strengthen the gaming rules," as well as "regulate junket operations, promote responsible gaming and boost the Macau casino industry's competitiveness."
Macau is currently riding high on a 15-month streak of year-on-year gaming revenue increases, and October's tally was the highest the market has recorded in three years. But the government clearly doesn't want the gaming industry slipping into the complacency that led Beijing to launch the corruption crackdown that resulted in a 27-month streak of gaming revenue declines.
The government's plans for the junket sector stem from the ongoing audits being performed on the 126 VIP gaming promoters currently authorized by the Gaming Inspection and Coordination Bureau (DICJ).
The audits, which are set to conclude before year's end, have reportedly uncovered problems that will result in the government drafting guidelines for performing more specific audits in future.
These reportedly include tighter rules on the handling of "temporary deposits" by junket investors and also ensuring junkets maintain "minimum internal control requirements in terms of information technology."
Junket industry figures offered their own perspectives on the local gaming industry at a Tuesday panel at the MGS Entertainment Show. GGRAsia quoted Suncity Group chief Alvin Chau saying Macau's government needs to "promote the industry in a more positive manner in mainland China and the countries along the 'Belt and Road."
Thomas Pang, who heads up junket investor Meg-Star International, went even further than Chau, saying Macau's government "should flaunt the VIP junket industry and recognize it more. Some of the firms are not only doing great in Macau, but also internationally" in other Asia-Pacific markets, such as the Philippines.
Speaking on the sidelines of an MGS event, DICJ director Paulo Martins Chan said the government wanted the junket sector to "grow healthily," which is why the government had placed such emphasis on junket audits.
With Macau's VIP market firmly on the rebound, junket operators that either reduced their Macau operations or closed up altogether during Beijing's crackdown are now looking to jump back in with both feet. However, Chan said the DICJ would be "more cautious during the junket approval process" to ensure only financially healthy junkets are allowed to operate.
Comments